ASPCA Slammed in Glassdoor Reviews
The American Society for the Prevention of Cruelty to Animals (ASPCA) is one of the most well known brands in the country. The group's commercials featuring Sarah McLachlan are widely recognizable. But marketing is not reality.
As we learned from the saga involving the Humane Society of the United States CEO Wayne Pacelle, who was accused by multiple women of sexual harassment, sometimes charities that seem worthy of support are in fact run by shady people. That's why we decided to take a look at Glassdoor reviews from past and present employees at the ASPCA to see if we could get some nuggets about what the organization is really like.
And the reviews are damning.
One common complaint among the negative reviews is a lack of work-life balance. Many employees report working long hours and feeling overwhelmed by the workload. Some reviews also mention a lack of support from management, which can make the work even more stressful. For example, one former employee claimed "Tens of people are fired every year for illegitimate reasons, while the others quit because of burnout and poor treatment. Everyone is miserable."

One current employee who works in the CARE department (Canine Annex for Rehabilitation and Enrichment) left a one star review, accusing the organization of euthanizing many more dogs than they claim and often not rehabilitating the dogs at all. The employee said they "witnessed NO rehabilitation or enrichment while there. In fact, during the 6 months of my employment, 15 dogs were euthanized for simply not getting along with other dogs."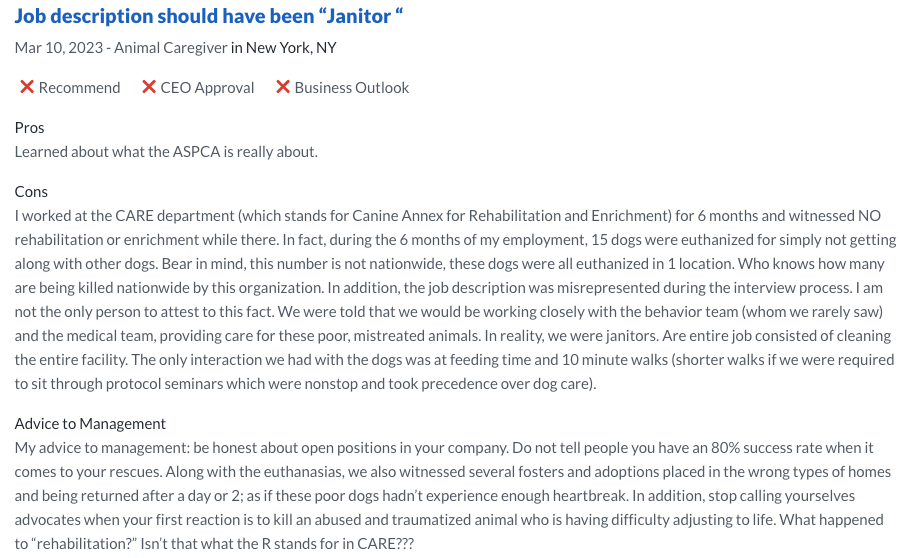 The employee pleaded for the organization to stop misleading the public, saying "Do not tell people you have an 80% success rate when it comes to your rescues… In addition, stop calling yourselves advocates when your first reaction is to kill an abused and traumatized animal… What happened to 'rehabilitation?' Isn't that what the R stands for in CARE???"
According to its latest tax return, the ASPCA has over $300 million in investments, cash, and savings while sitting on nearly $11 million stashed in the Caribbean to dodge taxes. Additionally, according to a 2021 CBS investigation, the ASPCA had raised over $2 billion for animal welfare since 2008. In that time, at least $421 million was spent on fundraising. Despite their deep pockets, the ASPCA runs just one adoption center in New York City that is not affiliated with local SPCAs. It clearly has the financial means to rehabilitate dogs–if and when the organization wants to. And if the ASPCA can't be bothered, why couldn't it simply give the dog to another group that's willing to try harder?
At the same time, there were complaints of "burnout" and "compassion fatigue." We wonder how those staffers would feel about ASPCA CEO "Million Dollar Matt," who pulled in nearly $1 million in compensation in 2021.
According to this former employee, the ASPCA offered employees a $6 treat if they worked harder, a slap in the face compared to Matt's mega-salary.

Additionally, there were also several complaints on Glassdoor accusing the ASPCA of discrimination. The same employee above went on to accuse the ASPCA of ableism, claiming "Only people without disabilities are technically in the running for this monthly bonus."

One former employee who left a review in January, claimed the ASPCA is a "TERRIBLE place for anyone who is not a white" and said many senior directors and managers were "abusive and unqualified."
Another former employee claimed, "Their 'DEI work' that they love to pat themselves on the back for is an absolute performative joke. All VP's and above are white. Many of them there for over a decade. The hardest working (overworked/underpaid) staff members are BIPOC with no room for advancement."

Another former employee complained of "toxic leadership" and urged the organization to "wash out your leadership team."

Overall, the ASPCA received a measly 3 out of 5 stars on Glassdoor.
It's worth noting that companies often put in their own positive reviews to outweigh bad ones, which often gives a company a much higher score than they otherwise would have. Ultimately, does the ASPCA sound like the kind of place you'd want to work? Or that you'd want to support?