Back 2 Skewl with Humane Society U.
UPDATE: For those of you who have asked, it's our understanding that the Humane Society of the United States's "Articles of Incorporation" still forbid the group from operating a private school. (If this has changed, we hope HSUS will let us know.)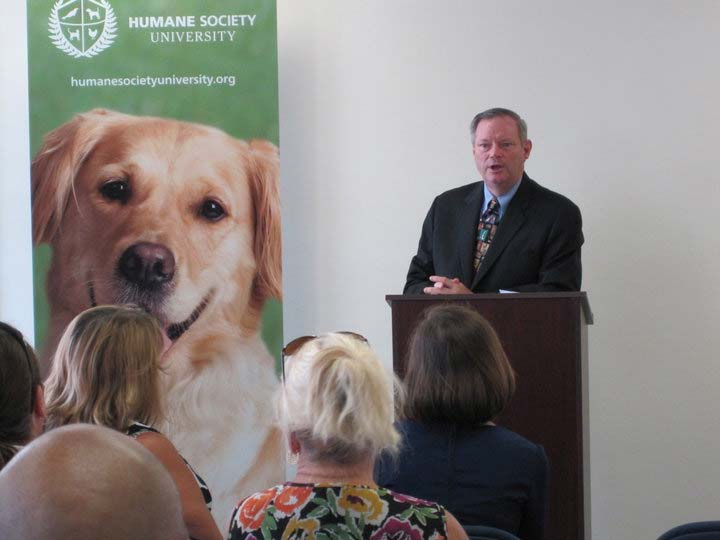 Wayne Pacelle blogged last Thursday about Humane Society University (HSU), HSUS's "higher education" arm. Although it claims to have been founded in 1999, HSU just awarded its first two graduate certificates last week, following its "one year anniversary."
And things get stranger from there.
The District of Columbia licenses HSU to grant degrees, but HSU warns that its course "credits may not be accepted by other institutions of higher learning—accredited ones, that is. HSU says it's "seeking" accreditation from one source, but it doesn't have any at present.
HSU only began operating in the District of Columbia a few years ago, but HSUS in-house historian Bernard Unti's curriculum vitae says he was teaching at the institution in 2004. Back then, it "partnered" with Duquesne University in Pittsburgh.
HSUS's "Animal Sheltering" website claims the Duquesne partnership still exists. But curiously, HSU's own website stopped mentioning it in 2007. And at present, Duquesne University doesn't mention any involvement from HSU (or HSUS) in its longstanding Humane Leadership Major track.
But no matter. Humane Society University is up and running. And the school's President—long-time HSUS vice president Robert G. Roop—might be the ideal guy to run a quasi-official, kinda-sorta "university" with no legitimate accreditation.
Why? His own Ph.D came from one.
Roop received his Human Resource Management doctorate from Bircham International University, a "diploma mill." His doctoral thesis was a "Strategic plan of the humane society of the U.S.A."
This ought to be interesting.
Bircham International University is based in Spain and Delaware, with offices in the Bahamas, England, Florida, New Zealand, and Taiwan. Only one institution anywhere claims to accredit Bircham's degrees—a Spanish organization called the Educational Quality Accreditation Commission (EQAC). But EQAC has no more credibility than Bircham itself.
EQAC sells phony credentials like the "Validation Diploma" and the "Doctor of Excellence." (Sadly, "Bill & Ted's Excellent Adventure" is not part of the curriculum.) The authoritative Bear's Guide to Earning Degrees by Distance Learning calls EQAC "the unlocatable and unrecognized accreditor for the nonwonderful Bircham International University."
So Bircham, Bob Roop's alma mater, is not legitimately accredited anywhere. The State of Oregon lists Bircham as an "unaccredited degree supplier" that doesn't meet state-level standards. Bircham doesn't show up in the federal Department of Education's accreditation database either.
The former head of the FBI's "DipScam" task force calls Bircham "pure hokum." Oregon officials call it "totally bogus." In other words, if you have money, Bircham has a degree. (Similarly, EQAC's "Doctor of Excellence" degree costs 900 Euros. They take Paypal.)
Does anyone find this ironic?
Here's a video of a Bircham "graduation" ceremony, held in a restaurant. It looks about as prestigious as HSU's graduation.
In Texas, Oregon, and at least four other states, it is against the law to use a Bircham degree. The Lone Star State spells it out particularly plainly, listing Bircham under the heading of "Institutions Whose Degrees are Illegal to Use in Texas."
Is Roop committing a crime by referring to himself as "Robert Roop, Ph.D." on HSUS's websites? Lots of Texans have web browsers. Scroll to the bottom of this web page for the legal language. Roop is apparently committing a Class B Misdemeanor in Texas when he:
… uses or claims to hold a postsecondary degree that the person knows is a fraudulent or substandard degree [and] uses or claims to hold that degree in a written or oral advertisement or other promotion of a business; or with the intent to … obtain a promotion, a compensation or other benefit, or an increase in compensation or other benefit, in employment or in the practice of a trade, profession, or occupation.
It would be one thing if Robert Roop were just an unremarkable HSUS staffer who slipped a degree-for-hire past the goalies in Human Resources. But as HSUS's Vice President for Human Resources and Education, he was the chief goalie—going back all the way to 1996 when he joined HSUS as its Director of Human Resources.
And now he's in charge of HSUS's expanding "higher education" program.
Bircham's online list of students included Roop in 2001—when he was already an HSUS vice president. (HSUS later touted Roop's academic credentials for a book he co-wrote in 2006.) So it's highly likely that HSUS knew his academic credentials came from a diploma mill. How else could he have known enough about HSUS's operations to craft its "management plan" as his thesis? (The thesis itself would make a fascinating read. Is it available to the public? Does Bircham University have a library?)
One clarification: This is quite a different thing from someone who was trained in one discipline and then excels at another. Rahm Emanuel, for instance, studied ballet dancing but is now the White House Chief of Staff. He clearly learned on the job. The same thing goes for Wayne Pacelle, whose only academic degree was in philosophy, not animal care or organizational management.
Pacelle, after all, did graduate from Yale. But Roop is playing a game of a very different kind, presenting puffed-up and worthless academic credentials to establish a genuine reputation for himself and Humane Society University. if HSUS finds this arrangement acceptable, it's a far more morally compromised institution than even we imagined.
Got a comment? Be sure to leave your thoughts below. From August 23 to October 29, 2010 we will be choosing the two best comments each week of 25 words or more, and awarding $100 (each) to the local pet shelters of the commenters' choice. Click here for more information and the official rules.