Censorship: An HSUS Social Media Story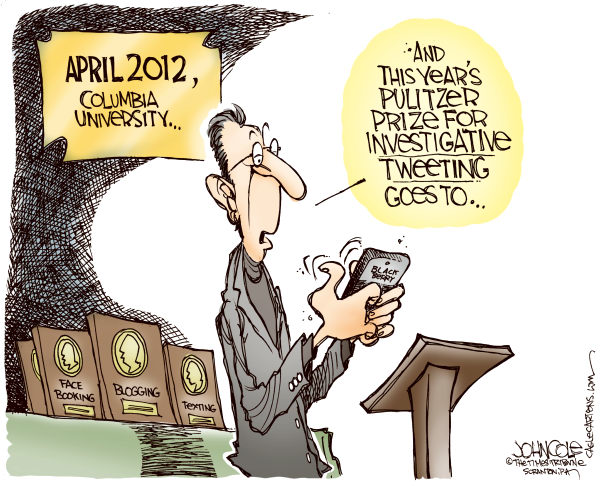 "Princess Poochie" is a pseudonymous shoe blogger, and a darned good one (so we've read…). And when she's not busy arranging her (literally) hundreds of pairs of shoes in IKEA bookcases, she's online. She's also a vegan, and she is a long-time supporter of the Humane Society of the United States.
Or she was. Until December 16, 2010, that is.
That was the day the Atlanta Journal-Constitution published a story in which HSUS CEO Wayne Pacelle claimed convicted dogfighting kingpin Michael Vick "would do a good job as a pet owner."
Even before our New York Times ad hit the streets, this was earth-shattering news in the animal rights world. It seems millions of ordinary animal lovers had a flavor of common sense that eluded Pacelle.
Amid all the doggie-doo-doo hitting the fan, HSUS's Facebook page saw an unusual level of frenzied activity. A posting about Pacelle's comments received nearly 1,400 comments—that we know of.
HSUS was apparently busy censoring its Facebook wall that afternoon, banning people who dared suggest that Pacelle be held to account. At least that's how Poochie described things on her "Shoe Daydreams" Twitter feed.
Poochie's blow-by-blow account of the Facebook fracas reads well as a first-person historical narrative. You can hear the lame responses coming from (we presume) HSUS Facebook page manager Anne Hogan. You can even see HSUS weakly trying to deny it had blocked Poochie from participating in the discussion. And you can feel the frustration building in someone who, by all rights, should personify HSUS's prime constituency.
HSUS's online responses to Pacelle's "Vick-gate" are a great study in how not to manage public opinion. Any organization that can't keep its base from running, screaming, to the exits, can't possibly hope to expand its following.
Poochie's comments are in the main column below. Other Twitter users' responses are indented, including those of HSUS and those of some of Poochie's fashion-blogging colleagues.
The conversation is presented chronologically, exactly as it happened.
ShoeDaydreams Dear @HumaneSociety you are going to lose tons of supporters, including me, if you keep supporting M. Vick http://tinyurl.com/3373y37
Thu Dec 16 2010 14:30:18 (Eastern Standard Time) via web
ShoeDaydreams To @HumaneSociety I'm not retweeting anything you do until you change your position on M. Vick http://tinyurl.com/3373y37 FOR SHAME, HSUS!!!
Thu Dec 16 2010 15:12:10 (Eastern Standard Time) via web
ShoeDaydreams To @HumaneSociety are you really deleting FB posts with contact numbers in them? Way to shut down communication!!!! FOR SHAME
Thu Dec 16 2010 16:14:00 (Eastern Standard Time) via web
ShoeDaydreams Call @HumaneSociety Katie Jarl, of animal fighting, 301-258-1483. Tell them Wayne needs to step down now & NO DOG for M. Vick
Thu Dec 16 2010 16:15:05 (Eastern Standard Time) via web
HumaneSociety @ShoeDaydreams she is not the right person to contact, so we put the correct phone number up.
4:27 PM Dec 16th, 2010 via TweetDeck in reply to ShoeDaydreams
ShoeDaydreams @HumaneSociety What is it? I will tweet it out.
Thu Dec 16 2010 16:28:43 (Eastern Standard Time) via web in reply to HumaneSociety
HumaneSociety @ShoeDaydreams 202.452.1100
Thu Dec 16 2010 16:31:07 (Eastern Standard Time) via TweetDeck in reply to ShoeDaydreams
ShoeDaydreams Nope @HumaneSociety! I don't want a phone maze. Let's talk to a real person. Call Katie Jarl, of animal fighting. To protest 301-258-1483.
Thu Dec 16 2010 16:33:16 (Eastern Standard Time) via web
ShoeDaydreams Wow @HumaneSociety now you have blocked me from posting and protesting on you page. Way to encourage conversation. You've lost a supporter!
Thu Dec 16 2010 16:37:50 (Eastern Standard Time) via web
HumaneSociety @ShoeDaydreams no one has blocked you. Facebook is down.
Thu Dec 16 2010 16:39:07 (Eastern Standard Time) via TweetDeck in reply to ShoeDaydreams
ShoeDaydreams No @HumaneSociety I actually got a block notice only on your page. Hmmm… strange…
Thu Dec 16 2010 16:39:44 (Eastern Standard Time) via web
ShoeSmitten @ShoeDaydreams Wow, they really should foster open communication. Whether they're listening or not (blocking), the discussion will occur.
Thu Dec 16 2010 16:51:22 (Eastern Standard Time) via TweetDeck in reply to ShoeDaydreams
ShoeSmitten @ShoeDaydreams I've volunteered for HSUS numerous times and been a supporter for years…this is VERY disappointing.
4:56 PM Dec 16th, 2010 via TweetDeck in reply to ShoeDaydreams
ShoeDaydreams @ShoeSmitten Agreed! On so many levels. No just Vick but also how they are treating this conversation.
Thu Dec 16 2010 17:03:47 (Eastern Standard Time) via web in reply to ShoeSmitten
ShoeDaydreams Weird! Now every comment I made on the @HumaneSociety FB page has been removed & yet they say "no one has blocked you. Facebook is down. "
Thu Dec 16 2010 17:39:59 (Eastern Standard Time) via web
Birdiee @ShoeDaydreams Facebook was totally down earlier. A bunch of the new business pages crashed it.
5:42 PM Dec 16th, 2010 via web in reply to ShoeDaydreams
ShoeDaydreams @Birdiee I can see the page and am on, but only my comments are removed. I can't comment on their page/posts, etc.
Thu Dec 16 2010 17:43:13 (Eastern Standard Time) via web in reply to Birdiee
ShoeDaydreams @Birdiee It's very targeted I think b/c of a protest on the page.
Thu Dec 16 2010 17:43:30 (Eastern Standard Time) via web in reply to Birdiee
tommytrc @ShoeDaydreams having moderated comments too..thats bad news… filtering is not the answer
5:56 PM Dec 16th, 2010 via web in reply to ShoeDaydreams
ShoeDaydreams @tommytrc I've been totally blocked and I'll my posts removed from the page. Shocking! Nicely done @humanesociety
Thu Dec 16 2010 18:51:22 (Eastern Standard Time) via web in reply to tommytrc
ShoeDaydreams I was emailing w/ Anne Hogan, Admin of @HumaneSociety FB page She responded but has now blocked me personally so I cannot email her back
Thu Dec 16 2010 20:28:19 (Eastern Standard Time) via web
ShoeDaydreams I'm really intrigued with who trained @humanesociety on proper social media interaction especially when dealing with a controversial topic.
Thu Dec 16 2010 20:28:52 (Eastern Standard Time) via web
ShoeDaydreams Apparently the @humanesociety FB page is blocking everyone who provides info or the idea of contacting people directly.
Thu Dec 16 2010 22:18:25 (Eastern Standard Time) via web
ShoeDaydreams I think @humanesociety is funded by donations, right? So shouldn't we be able to contact the board if we so choose? Or any staff member?
Thu Dec 16 2010 22:19:05 (Eastern Standard Time) via web
ShoeDaydreams @propublica Would any of your reporters be up for looking into how @humanesociety is shutting down dialog on their FB page re: funds & Vick
Fri Dec 17 2010 10:07:18 (Eastern Standard Time) via web
ShoeDaydreams He's not doing any good Why's @humanesociety supporting him? RT @eonline Should We Be Happy Michael Vick's Faking It? http://eonli.ne/i70oa5
Fri Dec 17 2010 11:26:57 (Eastern Standard Time) via web
v3gan @ShoeDaydreamsPlaying Devil's Advocate re: Michael Vick, I do believe people can change. Most of us were not born vegan, after all.
12:53 PM Dec 17th, 2010 via web
ShoeDaydreams @v3gan Even if he has changed, what he did was so vile that it is into sociopathic realms & the chance should never be taken.
Fri Dec 17 2010 12:56:19 (Eastern Standard Time) via web in reply to v3gan
ShoeDaydreams @v3gan Would you risk a child molester to care for children? Would you trust a serial killer or rapist with you alone at night? No.
Fri Dec 17 2010 12:59:41 (Eastern Standard Time) via web in reply to v3gan
spcaLAPresident @ShoeDaydreams I am blocked too! New Blog: Michael Vick, The Luckiest Felon in America, Wants a Dog for Christmas! http://ow.ly/3qXNZ
Fri Dec 17 2010 13:17:00 (Eastern Standard Time) via HootSuite in reply to ShoeDaydreams
ShoeDaydreams You can't have free speech or protest on the @humanesociety FB page but you can protest/get #'s on this page – http://tinyurl.com/ShameHSUS
Fri Dec 17 2010 13:45:47 (Eastern Standard Time) via web
Fasshonaburu @ShoeDaydreams I dunno, I thought Wayne's thoughts were not protest worthy, even though I hate MV forever http://tinyurl.com/2cxffuh
2:08 PM Dec 17th, 2010 via web in reply to ShoeDaydreams
ShoeDaydreams @Fasshonaburu It's not just his thoughts but the $ they get from Vick, NFL, Eagles & sponsors. It's they even implied support they give him.
Fri Dec 17 2010 14:09:36 (Eastern Standard Time) via web in reply to Fasshonaburu
ShoeDaydreams @Fasshonaburu People can discuss but Wayne represents an animal protection agency. He does not speak for himself but for HSUS … Which should be totally against this. When it's not it undermines all the work we fight for in trying to protect animals.
Fri Dec 17 2010 14:25:40 (Eastern Standard Time) via web in reply to Fasshonaburu
Fasshonaburu @ShoeDaydreams if he said he thought it was a good idea I would say yes, but to me it feels like he's trying to facilitate a conversation … but ONLY if they allow open discussion
2:27 PM Dec 17th, 2010 via web in reply to ShoeDaydreams
ShoeDaydreams @Fasshonaburu Which they are not doing too, as they delete posts and block people. It angers me on many levels.
Fri Dec 17 2010 14:29:13 (Eastern Standard Time) via web in reply to Fasshonaburu
ShoeDaydreams I need a drink.
Fri Dec 17 2010 14:57:13 (Eastern Standard Time) via web
Image under license from Cagle Cartoons
PRIVACY NOTE: Twitter's Privacy Policy dictates that "Tweets" are "public information" which is "broadly and instantly disseminated," and notes that "most of the information you provide to us [Twitter] is information you are asking us to make public." Accordingly, we are reproducing the "Tweets" about without the permission of the parties involved. We did seek input from "Poochie," but she failed to respond to two separate e-mails until more than a week after press time.