December 4 is 'Shelter Supply Saturday'
We're serious about supporting the underfunded pet shelters that the Humane Society of the United States chronically ignores. But we understand that the struggling U.S. economy will make it difficult this year for people to write checks to charity. These are real problems, but this Saturday you can be part of the solution.
In anticipation of "Shelter Supply Saturday" (falling this year on December 4), we're urging HumaneWatch readers to donate much-needed supplies to their nearest pet shelters. Not sure what to bring? Click here; or call your local humane society, SPCA, or other shelter to find out what they need and when they're open on Saturday.
We've also created a greeting card that you can attach to those paper towels, that bag of kitty litter, that box of cleaning supplies, or whatever you choose to donate. It explains the mission of HumaneWatch, and thanks shelter workers for doing what is too often a thankless job.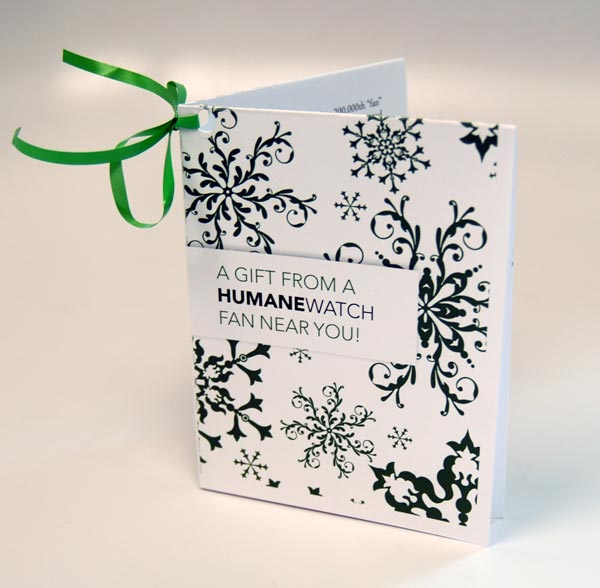 And the best part? It's super-easy to use:
Print on any color printer
Fold twice on the dotted lines
Punch a hole where it's indicated
Thread some twine or ribbon through the hole
Attach to your shelter gift and deliver it to your local pet shelter on Saturday, December 4
Thanks for opening your heart to animals during this holiday season!
If you want to help homeless pets, a donation to HSUS is the wrong way to go about it. So when that holiday fundraising letter comes from HSUS, we hope you'll support your local pet shelter instead of "Big Animal Rights."