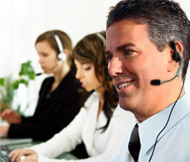 If you haven't read our articles exploring HSUS's ties to the professional fundraisers Share Group and Donor Services Group, they're a good background for the factory-fundraising schemes that the Humane Society of the United States is willingly involved with.
Today we're exposing another questionable arrangement that HSUS has made with a professional solicitor. Meet Donor Care Center.
The first thing you should know about DCC's ongoing solicitation campaign is that most of the money raised on behalf of the nonprofit HSUS will likely be going into this for-profit's pockets. According to the contract, HSUS is only supposed to get 0.05 percent of the fundraising proceeds. That's right—up to 99.95 percent of these charitable donations could wind up enriching a professional solicitor.
Remember, HSUS agrees to this—it signs (and presumably reads) every contract it enters into. And it knows from past experience that loads of donors' doggie dollars aren't winding up in animal-care programs.
It doesn't stop there.
We obtained a sample copy of the fundraising script used by DCC when it calls people under HSUS's banner. Here's the catch: This professional fundraiser is literally telling people that it's not asking for money.
"The main reason for my call is not to ask for money," the script goes. Right—except for the small fact that this is a fundraising campaign.
And how the campaign is conducted is a bit unorthodox. DCC asks people to recruit their friends and family to become HSUS members (then they, too, can get solicited by factory fundraisers) and offers to send them a campaign "kit." Doing this, DCC promises potential donors, "will literally help protect THOUSANDS of animals!"
That would seem to only be true if the money raised actually goes to HSUS. DCC callers are told to say that "it is our best estimate that HSUS will receive at least 50% of the funds raised on this campaign."
True? We have every reason to be skeptical. A supplemental sheet filed with the DCC/HSUS contract states that 0.05 percent is a "reasonable estimate" of the percentage of the overall revenue that will go to HSUS. See page 2.
Let's put it this way: DCC appears to be saying to donors that if you give $100, $50 will go to HSUS—while in reality, just one nickel will.
And according to a solicitation report from the Washington Secretary of State's office, only 35 percent of the money raised in DCC campaigns last year went to charities. In 2009, just 12 percent of the money DCC raised went to charities.
And of course, we have the examples of Share Group and Donor Services Group—fundraising campaigns in which a small fraction of the money raised goes to HSUS. And yet, here's a fundraising campaign—the main reason of which is "not to ask for money"—promising donors that they can protect "thousands" of animals.
Deceptive? Manipulative? Perhaps "vintage HSUS" will do.