Dialing For Golden (State) Dollars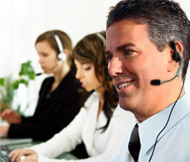 We told you last week about the "Pennies for Charity" reports issued every year by the New York Attorney General. Since 2000, barely 7 percent of the money raised by HSUS's Empire State telemarketers made it into Humane Society of the United States bank accounts. This is not exactly a paragon of efficiency, especially since less than one-half of one percent of that total actually gets to local pet shelters.
It's a genuinely "inconvenient truth." But surely things must be better on the West Coast, right? Surely HSUS knows better than to scam the California progressives who make up the core of its membership, right?
Right???
Oh, dear. Here we go again.
California's Attorney General requires charities that raise money in the state to file public fundraising reports. And the Los Angeles Times has published a database on its website that readers can use to figure out the "net" return on telemarketers for those charities.
Here's the bottom line: Between 1997 and 2006, HSUS got just 11.3 percent of the take when a professional "dialing for dollars" company reached out and touched someone on its behalf. Of the $8.6 million that HSUS's fundraisers got from Californians, only $976,000 made it to HSUS.
The HSUS Wildlife Trust Fund is even worse, recording a net loss. The HSUS-affiliated Fund for Animals also recorded a net loss from telemarketers after it merged with HSUS in 2005.
Over at the Center for Consumer Freedom our team took note of the December Charity Rating Guide issued by the American Institute of Philanthropy (AIP). The independent charity watchdog gave both HSUS and the Fund for Animals an unimpressive "C-minus" grade.
And just last week AIP released its April/May Charity Rating Guide. Once again, HSUS and the Fund for Animals drew C-minus ratings.
If you had gotten those grades in school on two successive report cards, how long would your mom have grounded you?
AIP based its grade largely on the percentage of HSUS's money that it spends on its programs (as little as 53 percent) and the amount of money it spends on fundraising (as much as 40 cents to generate every dollar of donations).
Is HSUS ever going to reform its factory fundraising practices? Wayne Pacelle is always saying he wants to curb "the most egregious abuses" in whatever sector of the economy he's targeting. How about his own?
Yes, Wayne, we know you get "4 star" ratings from Charity Navigator. But watch this space: It turns out one of the most wasteful charities in America can say that too. We'll tell you all about it tomorrow.