1991 HSUS Report of the President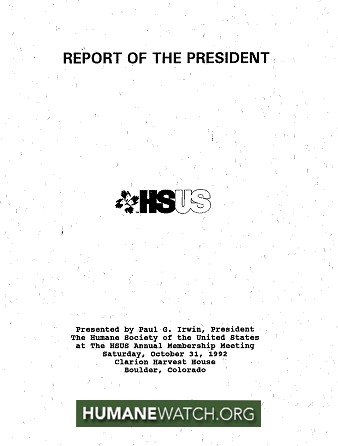 This is the 1991 HSUS Report of the President, presented by John Hoyt at the Annual Membership Meeting in Washington, DC.
The Report also includes passages from:
Patricia Forkan, Senior Vice President
Marc Paulhus, VP-Companion Animals
Randall Lockwood, VP-Field services
David Wills, VP-Investigations
Michael Fox, VP-Farm Animals and Bioethics
John Grandy, VP-Wildlife and Habitat Protection
Martin Stephens, VP-Laboratory Animals
Jan Hartke, VP-Environment
Patty Finch, VP-Youth Education
Richard Clugston, VP-Higher Education and Director of the Center for Respect of Life and Environment
We believe reproducing this material constitutes a "fair use" as provided for in section 107 of the U.S. Copyright Law. If you wish to use this material for purposes of your own that go beyond "fair use," you must obtain permission from the copyright owner.