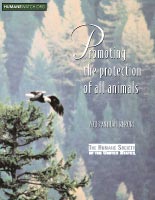 This is the annual report that HSUS published to describe its program priorities in 2003. It contains a message from newly appointed president Wayne Pacelle to HSUS supporters, testimonials from a selection of HSUS employees, a list of major donors, and a summary of its program accomplishments and consolidated financial data.
HSUS's 2003 annual report placed special emphasis on HSUS's "Halt Hog Factories" program, its efforts to lobby on Capitol Hill, and its media penetration in print and on television.
HSUS removed this document from its website in October 2010.
We believe reproducing this material constitutes a "fair use" as provided for in section 107 of the U.S. Copyright Law. If you wish to use this material for purposes of your own that go beyond "fair use," you must obtain permission from the copyright owner.