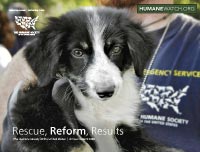 This is the annual report that HSUS published to describe its program priorities in 2009. It contains a message from president Wayne Pacelle to supporters, testimonials from a selection of HSUS employees, and a summary of its program accomplishments and consolidated financial data.
2009 highlights included 121 state laws enacted to regulate animal treatment, a European Union ban on commercial seal products from Canada, undercover investigations at a cattle ranch and a medical research lab, an expansion of the End Dogfighting program in Atlanta, protests against commercial dog breeding operations, a program to protect wildlife from hunters, and broadening the reach of Humane Society International.
We believe reproducing this material constitutes a "fair use" as provided for in section 107 of the U.S. Copyright Law. If you wish to use this material for purposes of your own that go beyond "fair use," you must obtain permission from the copyright owner.