Essay on HSUS's Official Support for Animal "Rights," 1981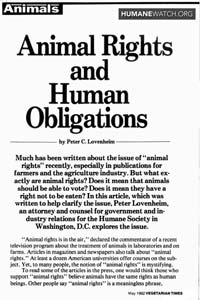 This essay was published in the May 1982 edition of Vegetarian Times. In it, HSUS legal counsel Peter Lovenheim (then a 27-year-old attorney) acknowledges HSUS's formal adoption of the belief that "there is no rational basis for maintaining a moral distinction between the treatment of humans and the treatment of other animals" at its October 1980 Annual Meeting in San Francisco.
Though Lovenheim is credited as the author, he appears to write on behalf of HSUS, stating in one part that "animal protection laws are not the basis for our assertion of 'animal rights.'" (Emphasis added.)
Lovenheim elaborates in this essay on the meaning of  "animal rights." And he enumerates specific "rights" for animals:
In general, all animals have the right to adequate nutrition, to an environment suited to their natural and essential behaviors, and the right not to be subjected to unnecessary physical pain. More specific rights will vary according to species.
Lovenheim also writes that granting "rights" to animals involves giving "equal consideration" to their interests in comparison with those of humans. Ultimately, he draws a distinction between animal rights and simply "being kind to them":
Animals' requirements are varied, and some are of greater importance than others, but when we recognize them as rights, we have a moral obligation to give them fair consideration, and to deny them only if other rights are overriding.
We believe reproducing this material constitutes a "fair use" as provided for in section 107 of the U.S. Copyright Law. If you wish to use this material for purposes of your own that go beyond "fair use," you must obtain permission from the copyright owner.