July 2010 HSUS Direct-Mail Fundraising Letter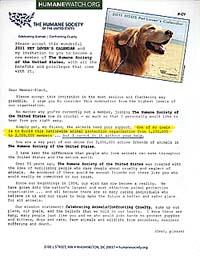 This Humane Society of the United States direct-mail fundraising letter was received by countless Americans on the animal rights group's mailing lists in July 2010.
In the three-page letter, which was packaged with a "2011 Pet Lover's Calendar," HSUS CEO Wayne Pacelle writes:
One of my goals is to build this nationwide animal protection organization from 1,200,000 to 2,000,000 members.
This startling statement is directly at odds with HSUS's long-standing practice of claiming it has "11 million supporters"—a statistic which now appears to have been inflated by more than 900 percent.
We believe reproducing this material constitutes a "fair use" as provided for in section 107 of the U.S. Copyright Law. If you wish to use this material for purposes of your own that go beyond "fair use," you must obtain permission from the copyright owner.