Memorandum Opinion, ASPCA et al v. Feld Entertainment, 30 December 2009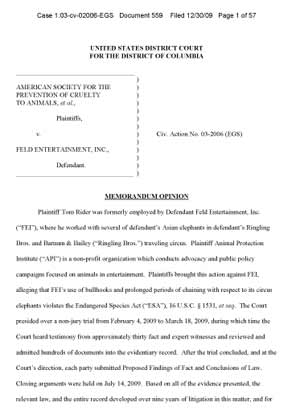 This is a ruling issued by U.S. District Court judge Emmitt Sullivan in the case of ASPCA et al v. Feld Entertainment. It was issued on December 30, 2009.
Feld is the company that runs the Ringling Brothers and Barnum & Bailey Circus.
The plaintiffs included the Fund for Animals (FFA, which later merged with HSUS); the Animal Protection Institute (API); the Animal Welfare Institute (AWI), the American Society for the Prevention of Cruelty to Animals (ASPCA), and a former Feld employee named Tom Rider (who worked for Feld between 1997 and 1999, largely cleaning up after elephants).
Rider, the animal rights groups' star witness, was declared "not a credible witness" by the Court. Judge Sullivan wrote that "Mr. Rider often gave conflicting answers and was repeatedly impeached on the witness stand."
Sullivan also found that the plaintiffs had paid Rider more than $190,000 "to secure [his] initial and continuing participation as a plaintiff." He wrote that Rider had lied under oath about the money he was being paid for his testimony.
Most of the payments to Rider were made through the plaintiff's own attorneys (the DC firm of Meyer Glitzenstein & Crystal) and through a "Wildlife Advocacy Project" (WAP) organization which those attorneys used as a pass-through device. The plaintiffs even got a tax deduction for paying their witness, since WAP was a 501(c)(3) nonprofit.
According to Sullivan's ruling, the FFA paid Rider $4,400 directly, and "donated" another $11,500 to the Wildlife Advocacy Project with the knowledge that it would end up in Rider's pockets. Michael Markarian, the FFA President who is now HSUS's Executive Vice President and Chief Operating Officer, played dumb in his own testimony. But Judge Sullivan wrote:
While FFA/HSUS (Mr. Markarian) testified that it was not certain whether WAP used its "donations" for other purposes as well, this testimony is undermined by the documents underlying FFA/HSUS's "donations," which indicate that the money was specifically for use in connection with this litigation. FFA/HSUS's testimony also is questionable given that in 2003, plaintiffs' counsel, Ms. Meyer, specifically sent an email to the representatives of the organizational plaintiffs, including Mr. Markarian, requesting funds to support Mr. Rider's advocacy efforts regarding the elephants and the lawsuit, and expressly suggesting that the funds for Mr. Rider could be contributed to WAP so that they would be tax deductible.
The dismissal of this lawsuit ended nine years of pointless animal rights litigation against the Ringling circus, during which time millions of dollars in needless legal fees were spent on both sides.