Drowning in Cats? Not so Fast …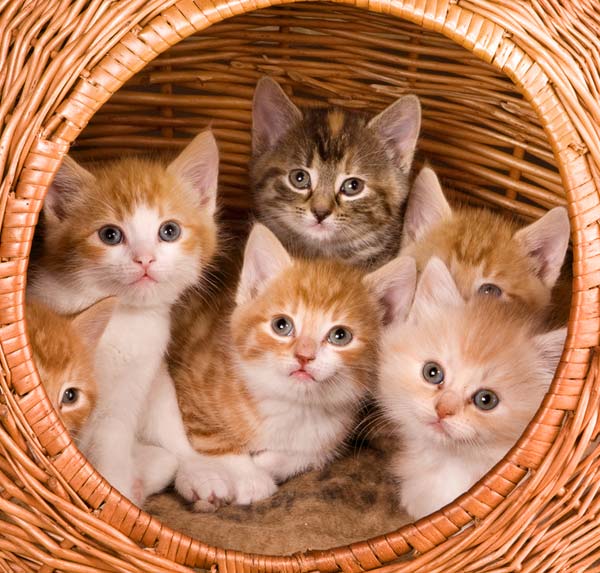 Today Christie Keith, the San Francisco Chronicle's pet blogger, sheds some light on a tortured statistic—a completely false one—that the Humane Society of the United States spread for more than a decade. It's the nonsensical notion that the offspring of a single unspayed cat can give birth to 420,000 more animals within five years (or seven, depending on which version of the meme you're reading).
If the idea of kittens reproducing like Tribbles sounds absurd, that's because it is. Pet blogger Gina Spadafori first debunked it in 2006, with the help of a Wall Street Journal analyst. (It turns out that HSUS's estimate was off by several orders of magnitude.) But the silly idea that cats are unstoppable reproduction machines still has currency. The 420,000 number appeared in a San Diego Union-Tribune feature less than two months ago.)
Where did this phony statistic come from? No one seems to know. The ASPCA says they got it from HSUS. And HSUS—well, their last word on the subject was a 2006 claim from one VP that "I have no idea where that number came from."
Maybe we can help figure it out.
A search of the Internet Wayback Machine shows that it was part of HSUS's website as early as 2004. (It disappeared in October 2006.) But some pet shelters still cite HSUS as their source for this phony number.
But the genesis of this number goes back much further than 2004. Thanks to Lexis-Nexis, we found published examples in the media of the "420,000 cats" number all the way in 1989. And guess who started it?
Here's the beginning of the Humane Society of the United States press release that started it all (emphasis added):
PR Newswire
March 29, 1989, Wednesday
NEW JERSEY FIRST STATE IN NATION TO PROCLAIM APRIL 'PREVENT A LITTER' MONTH

FLANDERS, N.J., March 29 /PRN/ — New Jersey became the first state in the nation to proclaim April "Prevent A Litter" month when Gov. Thomas Kean signed the proclamation.

According to Nina Austenberg, Mid-Atlantic Regional Office director of the Humane Society of the United States, more than 70,000 puppies and kittens are born each day due to uncontrolled breeding. Only by implementing widespread sterilization programs will we be able to reduce this staggering number, Austenberg said. One female dog and her offspring can be the source of 67,000 puppies in seven years. One cat and her young can produce 420,000 cats.
Of course, this statistic could be even older. But HSUS either (a) invented it or (b) spread it for 16 years without trying to find out if there was a shred of truth in it.
Now that we've straightened that out, maybe it's time to start asking where all of HSUS's other tried-and-true stats came from.
Are these numbers pulled from the same thin-air as the "420,000 cats" stat? And if so, why does anyone believe them?
In her Chronicle blog article, Christie Keith asks Pulitzer-prize winning science writer Deborah Blum for her take. Here it is (emphasis added):
We get gamed by the system because institutions and government agencies are promoting themselves, and most people haven't taken a statistics class, and aren't professional science journalists with all this time to wallow around in a scientific paper.
Fair enough. And add to that the difficulty of proving a negative.
But at least we can ask fair questions about where the Humane Society of the United States gets all the numbers it uses in its daily self-promotion exercises. Whether HSUS will bother to explain itself is, of course, a different matter entirely.