HSUS Ally and Accused Woman-Beater Resigns
Yesterday evening The New Yorker published a new #MeToo exposé, this one targeting a friend of the Humane Society of the United States: New York Attorney General Eric Schneiderman. Four women told the magazine that Schneiderman, New York's top law enforcement official, battered them. Schneiderman initially put out a statement admitting to bedroom "role-playing" before resigning.
Schneiderman was an ally of HSUS, attending and speaking at its 2014 "To the Rescue" gala in New York. That's him, at left, with HSUS CEO Wayne Pacelle and an HSUS national council member.
You may remember that Pacelle himself resigned in disgrace in February after a number of HSUS staffers accused him of sexual harassment. Graphic stories surfaced, including an alleged incident where Pacelle asked a female staffer to come to his hotel room and watch him masterbate. And Schneiderman isn't the only dirtbag Pacelle cozied up to.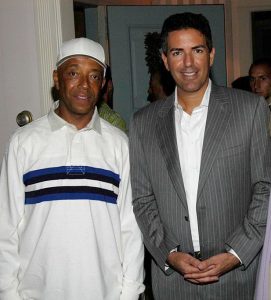 There was his pal, HSUS vice president Paul Shapiro, who allegedly sexually harassed staff but got a slap on the wrist at the time—before resigning this year, not long before POLITICO exposed the allegations. Then there's HSUS getting in bed with former Congressman Michael Grimm, who went to prison for tax evasion. There's former Congressman Ed Whitfield, who resigned following an ethics probe that involved his wife (an HSUS lobbyist).
There's former HSUS national council member and donor Arthur E. Benjamin, who was sued for sexual assault. And of course, there's Pacelle's old pal David K. Wills, who was fired from HSUS in the 90's after allegedly embezzling money. Pacelle had described Wills as a "bang-up" leader in the humane movement. Wills is currently awaiting trial in Texas on child sex-trafficking charges.
Wayne Pacelle's poor judgment—and those of others in senior management who are still at HSUS—continues to reverberate. The only question is: when will the HSUS board of directors come clean about the shady characters still on the payroll?