HSUS: Only 4% of Money Raised Went to Animals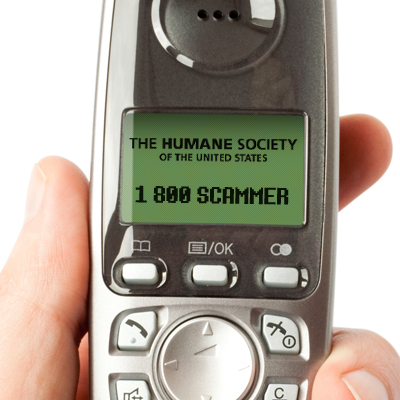 We broke the news earlier this week that, according to the Massachusetts attorney general, solicitation campaigns in that state done on behalf of the Humane Society of the United States netted absolutely zero dollars for animals in 2012. Not a dime. We've just looked at the data provided by California, and it's another picture of waste.
The California attorney general published a report (PDF) of solicitation campaigns conducted in 2012 (it's unclear whether these are California-only or national campaigns–the reporting form allows for either). According to the report, the Humane Society of the United States raised $1.8 million—and only 4% of that actually went to help animals. Here are the campaigns:
| | | | |
| --- | --- | --- | --- |
| Solicitor | Donated | To Charity | % to Charity |
| InfoCision | $10,809.00 | $9.92 | 0.09% |
| Donor Care Center | $191,214.69 | -$21,713.71 | -11.36% |
| Fine Line Communications | $17,849.46 | $17,062.21 | 95.59% |
| Coinstar | $4,698.47 | $4,346.08 | 92.50% |
| Donor Services Group | $1,576,057.00 | $139,768.00 | 8.87% |
| PDR II | $83,659.00 | -$56,575.00 | -67.63% |
| Total | $1,884,288 | $82,898 | 4.40% |
Of the $1.88 million raised supposedly to help animals, $1.8 million went into the pockets of for-profit solicitors. Several of these HSUS solicitors are represented by the law firm Copilevitz & Cantor—one of the namesakes of which has been called "the lawyer who keeps some of America's worst charities in business," and he started his illustrious career representing porn shops and strip clubs.
This is yet another instance of abusive fundraising by the Humane Society of the United States. HSUS would probably try to excuse its miserable track record of telemarketing—which happens year after year—by claiming its building a list of "future donors" or some such crock. The fact is that these donors think they are helping animals, yet 96% of the money is going into the pocket of for-profit solicitors.
In fact, judging from telemarketing scripts on file with state regulators, HSUS and the solicitors may be actively misleading donors. In a 2009-2011 contract with Donor Services Groups (the main fundraiser above), HSUS expected to receive just 2% of the money raised. However, solicitors were instructed to say the following to inquiring donors:
Trying to estimate what percentage the charity might receive based off our flat fee is difficult since I don't know all the information about how the Humane Society of the United States budgets fundraising costs, but it could be approximately 40% – 50% over two years.
We don't like to throw around the word "lie," but it's hard to think of a different description for what's going on here in HSUS's fundraising. At the very least, it's deceptive practices.
HSUS isn't the only charity that misleads donors in such a way. Bloomberg News exposed a few others in 2012 that also use InfoCision. But putting HSUS's telemarketing alongside its direct mail and TV appeals, as we did in our deception report, it's clear that HSUS acts in bad faith and treats animal lovers as a cash cow.