HSUS: Dogfighting is a 'Minimal Problem' (But We'll Still Raise Money Off it)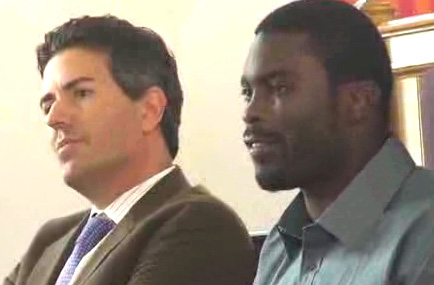 Some not-so-surprising news popped into our inbox the other day: HSUS's self-promoted "End Dogfighting" campaign in Philadelphia has, well, ended. Or at least, it's been folded under the umbrella of HSUS's more expansive "Pets for Life" campaign.
One of the things we agree with when it comes to HSUS is that dogfighting is bad, and it should be eliminated. So why is HSUS ending its program?
Ever the media spinsters, HSUS has a rather odd way of playing it down. HSUS's campaign manager says that dogfighting is actually a "minimal problem" not just in Philly, but across the country. "[T]hrough our work and what we see in these communities across the country, it's really a minimal problem," he said.
Um, what? Let's review.
According to the Pennsylvania SPCA, animal-fighting investigations in the state numbered 237 in 2008. That tripled to 836 investigations in 2009, the year Michael Vick got out of prison, partnered with HSUS, and joined the Philadelphia Eagles. And it rose again in 2010 to 1,177 investigations. As the PSPCA's Director of Law Enforcement observed, it wasn't just an increase in reporting and awareness, but "there also has been an increase in actual dogfighting." Most of these were dogfighting investigations in Philadelphia.
So, at least until quite recently, the trend-line was pointing up, not down.
In fact, on the HSUS dogfighting page on their website they still claim that while large scale dogfighting operations are down, "street dogfighting, however, is on the rise in urban areas." And that "there is disturbing growth of the activity in urban areas."
If the "End Dogfighting" campaign failed to catch on with Philadelphians, perhaps it's due to the mixed messages from HSUS. HSUS took a convicted dogfighting kingpin under its wing who had just gotten back into the NFL and was becoming a star player. If anything, the message it sent was that you can fight dogs and still make plenty of money, even if you're caught.
Speaking of money, we'd be remiss not to mention that HSUS got a nice, cool $50,000 from the Philadelphia Eagles in 2009. So maybe the program didn't catch on, but HSUS didn't exactly have to cut into the organization's multi-million-dollar hedge fund investment to try it out.
And despite dogfighting being a "minimal problem," we're sure people in Philadelphia and elsewhere will still see HSUS ads raising money off of dogfighting. Dogfighting was certainly raised a number of times in recent HSUS direct-mail appeals. And there are videos, like this one, of HSUS raiding a dogfighting operation and rescuing the animals (with a donate button, of course). Let's just hope HSUS doesn't dump them off with a gas-chamber shelter—or with its pals at PETA.