HSUS Money Man in Education Funding Fraud Scandal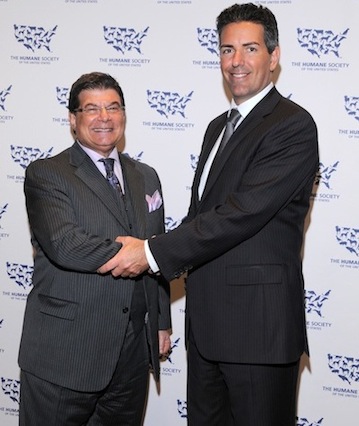 Early adopters of HumaneWatch may remember an episode from back in March, which involved the Mary Kay Cosmetics company sponsoring—and then not sponsoring—a major Humane Society of the United States fundraising gala in Dallas. (It's amazing what can happen when a few thousand HumaneWatchers pick up the phone!)
That $200-per-plate soiree, which HSUS called "Spotlight Humane: Dallas," was presented by American Dog Rescue—a charity founded by Arthur E. Benjamin—and by the Gail L. and Arthur E. Benjamin Foundation.
Two months earlier Benjamin, a recognized expert in "marketing post-secondary education" to under-educated adults, gave HSUS $50,000 for animal rescue in Haiti—you remember, the animal rescue work that HSUS's own expert said was unnecessary. Combined with this donation, the March event solidified Benjamin as a top HSUS money man in Texas's most HSUS-friendly city.
But after this weekend's news, HSUS may not want to hold a "second annual" Dallas fundraiser. Not with Arthur Benjamin's support, anyhow.
On Friday night WFAA-TV8 in Dallas aired a blistering exposé of ATI, the for-profit network of career training schools that Benjamin operates. Among other things, WFAA discovered that Arthur Benjamin's ATI has "targeted the homeless and felons as students, tapping into government loans and grants, and misleading both the students and the government."
According to the school itself, 84 percent of ATI tuition costs are covered by federal government grants and loans. And getting students to enroll—even those who are practically unemployable and have little chance of paying back their loans—is the key to scamming taxpayer funds from the government's education programs.
Here's more from WFAA about ATI's hard-sell. Some recruiters get bonuses for making down-on-their-luck potential enrollees cry:
A former ATI employee said the sales pitch was deceptive from the beginning. "We're guaranteeing you a job," he said. "That's what the model was." …

In face-to-face sales presentations, "the whole purpose was to make them cry," said a former ATI sales rep, "so that they would understand if they walk out that door they would really have no options but to try and better themselves."

Salesmen (ATI calls them "admissions representatives") could actually earn cash by making prospects cry, employees said. Managers would check on face-to-face interviews to note the progress. If they saw a recruit in tears, "They (the salesmen) would be rewarded with a $100 bonus, time off, something like that," said a former sales representative.
If you're not angry yet, get this: According to WFAA, ATI employees forge documents in order to make it look like most of the school's graduates have jobs:
State records show 70 percent of ATI's North Texas graduates got jobs in the most recent reporting period. But there's evidence to question those numbers.

Former employees say the school forged student signatures on job placement records.

"When they graduate, they would sign off on all kinds of paperwork," said a former ATI employee. "Then you would take a clean version of their signature, make copies of it, and then paste it into documents to say they were placed."

At times, former employees say, school officials would even print phony business cards, indicating students had started their own companies. The counterfeit cards would use a business name with the student's name and phone number in it
WFAA found 19 separate records that appear fraudulent. They all involve nonexistent job placements that ATI filed with the Texas Workforce Commission.
But wait: There's more! Federal education-funding programs (the mother's milk that ATI and Benjamin seem to be after) won't pay schools for students who don't attend classes for the first five days of any semester. So when students dropped out early, ATI's commission-earning recruiters—again, according to WFAA's investigators—often paid homeless people to come to class in the dropouts' place. Just long enough to start the flow of federal dollars to ATI, of course.
If this is the kind of public figure the Humane Society of the United States has out in front of such a high-profile fundraising event, that says a lot about the character of the people at the top. And it would be interesting to learn whether or not Wayne Pacelle consulted with Arthur Benjamin about the start-up of the phony-baloney Humane Society University. It would almost be a surprise if he hadn't.
Here's the video from Friday night's WFAA-TV newscast.