HumaneWatchers Helping Animals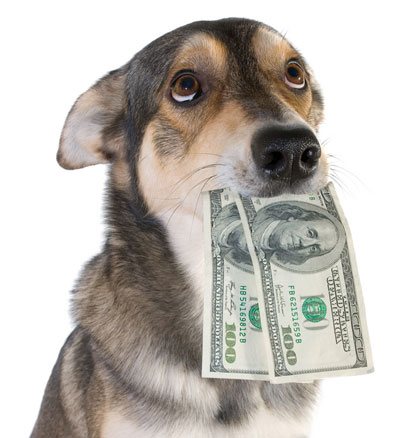 Last month we held a HumaneWatch comment contest, choosing the two best blog comments each week and allowing the winning writers to send $100 of our money to their favorite pet shelters.
Since we were on a little blogging sabbatical for the last few weeks, we never got around to writing about the winners from the final two weeks. In the week of October 22, Rebecca B. made an observation about HSUS's phony-baloney and ever-morphing membership figures:
Wayne Pacelle wrote in a fundraising letter that HSUS has 1.2 million members and now we are told that 300,000 of them are in Missouri? So according to HSUS, 25% of all HSUS members reside in Missouri. Am I the only one who finds that hard to believe?
Rebecca is definitely not alone in her skepticism about HSUS's membership. She chose the Westside German Shepherd Rescue in Los Angeles as her prize-winning shelter, and writes to us:
I'm flattered to be chosen as the comment of the week. I can't thank HumaneWatch enough for all they and their Facebook family do to help the animals. Every person we change from an HSUS supporter to a supporter of their local humane societies and shelters is a step in the right direction. You guys are the BEST!
Next we have Michael A., who commented on election-season politics and HSUS's deal-makers:
It would seem that the support of Gov. Strickland by the HSUS might not mean so much when it comes to election time. If my memory serves me correctly, most of the people that worked for the HSUS in Ohio gathering signatures for the ballot initiative were from out of state (remember the HSUS lawsuit against the State of Ohio?). Apparently, there was not enough HSUS support from the residents of Ohio to gather signatures. I guess support by the HSUS doesn't mean as many votes as they would like you to believe!
In the end, Strickland's opponent edged him by 2 percentage points. Since the incoming governor (John Kasich) never signed on to the "Buckeye Compromise," who knows what will happen? Michael made the Texas Italian Greyhound Rescue (in the Dallas/Fort Worth area) $100 richer.
Our first winner for the contest's final week was Ann C., who commented on the likely aftermath of Proposition B in Missouri. Many expect that dog breeders will give up their animals en masse because of ownership limits in the law. But will HSUS open its wallet after countless Missouri shelters begin to handle the practical fallout? Ann is skeptical:
HSUS has plenty of money to help care for all those extra dumped dogs. Are they going to spend any of? Highly doubtful. In the past and right now they ride into town to be in front of the cameras and get the publicity for the "puppy mill bust" but dump the animals on the local shelters without any money.
As of October 15, HSUS was still promising one hands-on pet shelter that it would be donating to groups in Missouri, but it hadn't pledged any particular amount of money. We'll see whether HSUS's promises turn into checks for groups that will suddenly have more dogs than they're used to. Ann chose Gulf Coast Cocker Spaniel Rescue in Houston, Texas for our $100 gift.
And the final winner of the contest promotion was Lynn T., who describes herself as "an animal lover who has dabbled in competition and watched the Animal Rights machine since the '70s." Lynn notes HSUS's deceptive self-promotion tactics:
If they said, "We need to end all animal agriculture, because eating meat, eggs and cheese is immoral" … would you send money? But because they are saying "factory farming is abusive, and we need to pass laws to stop it," people do send money, trusting that in the first place, factory farming is abusive, in the second that the laws they write and sponsor would actually address such alleged abuse, and in the third place that the guy down the road who is milking three cows by hand wouldn't be affected by such laws.
Picture after picture of cats and dogs hide a radically different agenda that has little to do with sheltering dogs and cate. Lynn chose the Homeward Bound Pets shelter in Dayton, OR.
That's a wrap for our contest. Below is a final list of the shelters that will be receiving $100 donations from HumaneWatch. If you would like to contribute so we can run this promotion again in the near future, here's where you can help.
The Laredo Animal Protective Society
Sauk County Humane Society
Carolina Basset Hound Rescue, Inc
Lucy Mackenzie Shelter
Minnesota Valley Humane Society
Operation Mississippi Horses
Briard Rescue and Haven
Humane Society of Central Illinois
Better Days Animal League
Texas Italian Greyhound Rescue (2x)
Humane Society of Huron Valley
Capital Area Humane Society
Auglaize County Humane Society
Helping Hands Humane Society
Gulf Coast Cocker Spaniel Rescue
Homeward Bound Pets
Westside German Shepherd Rescue