Ka-Ching! (Pet Shelter Winners for Week #3)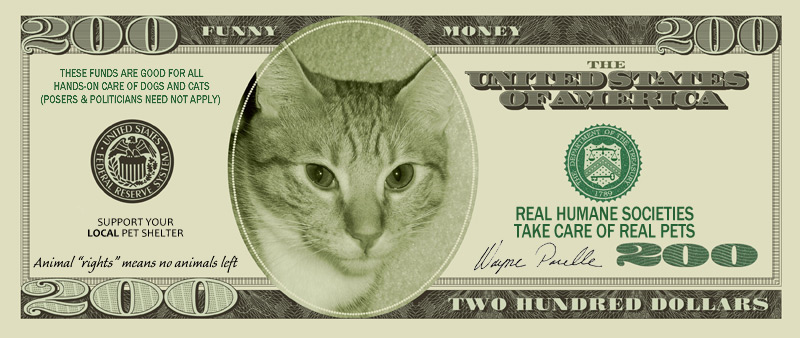 We've chosen the next two winners in the HumaneWatch "Commenter of the Week" contest! Congratulations go to Gail Z. and Katie H., whose favorite pet shelters will each receive $100 for their programs. Gail picked the Briard Rescue and Haven in southern Arizona. Katie chose the Humane Society of Central Illinois in the city of Normal.
This week's contest runs through 6pm EDT on Friday, September 17. To qualify, just leave an interesting, thoughtful, entertaining, or otherwise compelling comment on any HumaneWatch blog article! (Read the rules here.)
Last week's winning comments touch on two controversial subjects: "speciesism" and money. They're great examples of one of the reasons we're holding this contest: to show that it's quite possible—maybe even likely—to be an animal lover who's philosophically opposed to what the Humane Society of the United States seems to stand for.
Gail commented on a blog article about the connection between "zero population growth" and HSUS's animal rights agenda:
I never understood the anti-human sentiment of the AR [Animal Rights] movement. If indeed they believe that animals deserve the same rights and liberties as humans, why would humans have to reduce their population to preserve animals? Sounds like speciesism to me, with humans being the species given the lesser value. If the ARs can make exceptions to kill a human animal so a cow, for example, can live, then they should support my right to kill a cow so that I can live.
If you haven't read Animal Farm in awhile, you might miss the connection. Gail's words are reminiscent of how Orwell summarized the Seven Commandments of Animalism: "Some animals are more equal than others."
When we told Gail that she had won $100 for her favorite shelter, she was equally insightful:
I think that HumaneWatch does a great service to the animal community … I always feel a little twinge of shared success every time someone writes that they didn't know the truth about HSUS and will now donate to a local shelter rather than continue their HSUS support.
We do too, Gail.
Katie's comment came in response to our interview with Dr. Ron DeHaven. And like Gail, she explored an interesting double-standard:
It seems like HSUS considers itself the exception to their own unofficial rule of "If you make money off of animals, you are evil." Farmers are evil, dog breeders are evil, and apparently now even veterinarians are evil. Never mind the fact that HSUS makes more money off of animals than anyone. THEY are supposedly doing it for the right reasons. Vets, farmers, and breeders (and any shelters that speak against HSUS) are simply in it for the money, but those few who align themselves with HSUS seem to get a free pass.

Perhaps soon HSUS will send all their "members" licenses to profit financially from animals by HSUS-approved methods, including but not limited to: vegan propaganda and lobbying activities, mandatory spay/neuter enforcement, undercover video doctoring, -er… editing, illegal seizures (including collection of funds for subsequent legal fees), and running rehab sanctuaries for former agriculturally indentured non-human sentient beings.
Ah, Katie … You're forgetting one important thing: They're better people than the rest of us. Or something. (Got it? Good.)
In all seriousness, Katie was excited to be able to help animals in her own community:
Many thanks to HumaneWatch! Not only for the contest, but also for providing an opportunity for discussion and education among us animal lovers who would prefer to keep animals as a part of our lives.

Our local shelter has a lot on its plate, and I am sure this donation will be greatly appreciated!
That's the biggest reason we're running this contest, of course. We know that (literally) thousands of shelters all across America don't get the kind of support from the Humane Society of the United States that they ought to. Certainly not the level of support HSUS's donors believe the group is providing. So we're doing what we can, and we hope it's appreciated too.
While we're on the subject, it's time for you to do your part. Find a pet shelter near where you live. Make a phone call. If you can't afford to donate, consider volunteering your time. It's the right thing to do.
Got a comment? Be sure to leave your thoughts below. From August 23 to October 29, 2010 we will be choosing the two best comments each week of 25 words or more, and awarding $100 (each) to the local pet shelters of the commenters' choice. Click here for more information and the official rules.