Meet your HSUS State Director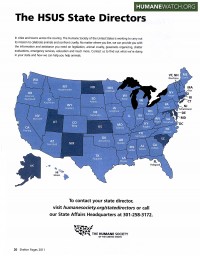 Last week we added something to the HumaneWatch Document Library: a U.S. map that appears in this spring's edition of Shelter Pages, a publication that the Humane Society of the United States describes as a "directory of products and services for sheltering professionals." (In reality, Shelter Pages reads more like a break-even advertising project for HSUS.)
At press time, this map showed the last names of each of HSUS's current "State Directors." It's helpful to think of these staffers as salaried lobbyists in the state capitals who work exclusively for HSUS. At present, there are 40 of them.
Since HSUS State Directors seldom have the sort of public profile of a Wayne Pacelle, we thought it would be a good idea to list them here, along with the state where each one works—just so concerned citizens can recognize them when they visit their elected representatives.
In this gaggle of HSUS government-affairs workers, you'll find some honest, well-meaning advocates. You'll also find:
The full list of HSUS State Directors is after the jump.



* HSUS's principal offices are in Maryland and the District of Columbia.