More Pet Shelter Winners!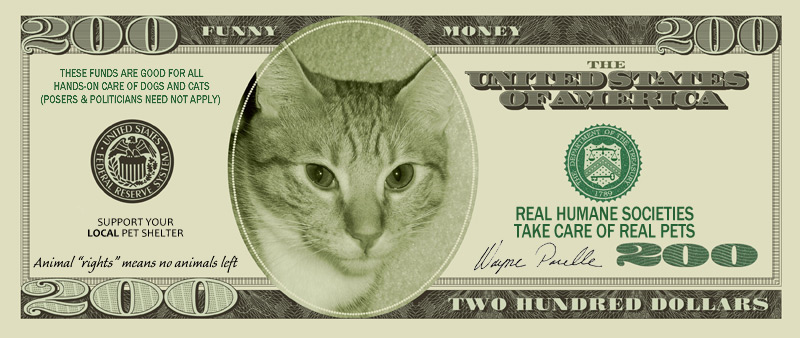 We've got a three-week special today at HumaneWatch—an announcement that six shelters will be receiving $100 donations courtesy of a few HumaneWatch readers and our "Commenter of the Week" contest!
Our first winner is Joe C., who had a snarky comment about how HSUS apparently counts its detractors among its "11 million" supporters. (He suggested that there should be a "Humane Math" course at Humane Society University.) Joe's shelter of choice is the Laredo Animal Protective Society in Laredo, Texas. Joe writes to us:
We read with disgust as more and more HSUS scandal unfolds each week right here on your blog. It is a great thing you do in educating everyone about how donating to our local shelters is how we actually can make a positive difference. At the same time, the sham Humane Society (of the United States) inches closer to being viewed by the masses for the scam it really is.
Our second winner is Bruce W., who has chosen the Sauk County Humane Society (of Baraboo, WI) as the recipient of a $100 donation. Bruce commented on our article alerting readers to an Iowa shelter that was trying to raise $40,000 in a hurry, writing that HSUS likely spent more money in Iowa scaremongering and demonizing than on helping real-live pet shelters.
He's got a good point. In fact, Washington Times editor David Mastio discovered that HSUS's largest donation to a hands-on pet shelter in Iowa in all of 2008—$9,044—was for HSUS propaganda! Geez.
Bruce writes to us:
Barb Durtche of the Sauk County Humane Society posted a comment just below mine that Humane Watch selected to win the $100. If Barb, a member of the animal shelter community, has the guts to stand up to H$U$ and call herself a HumaneWatcher, that's good enough for me.
Next up we have Jenny N., who picked the Carolina Basset Hound Rescue in Charleston, SC. Jenny commented with skepticism on HSUS's tactic of using B-list celebrities as marketing tools. She writes to us:
HumaneWatch is a much needed wake up call for the millions of people who blindly give up their hard earned cash to big-name organizations, without so much as a cursory glance at what their money really goes to support. HSUS actively fosters the misinformation that they are your local shelter. They're a political machine, not an advocacy or welfare organization.
Well put.
Following Jenny, we were impressed by a comment from a new HumaneWatch reader Dana, who wrote:
I thought these guys were all about homeless animals. It would be less expensive to get all of them rehomed. That's the sick part. I'm so glad I have somewhere to point people to. It's organizations like HSUS that make people who actually want to help look like maniacs.
Dana declined to choose a specific shelter, so we spun our magic wheel and chose the Lucy Mackenzie Shelter in Windsor, Vermont.
Last week, Elaine H. left a winning comment about HSUS's spending in Missouri, writing that the group's spending on "animal care facilities" likely is mostly on the facilities that HSUS runs. (She's right.) Elaine has chosen the Minnesota Valley Humane Society in Burnsville, MN as her winning shelter. She writes:
I am grateful HumaneWatch is available as a clearinghouse for factual information about HSUS, and about some of the local organizations that partner with it to the detriment of responsible animal owners.
Thanks, Elaine!
Last but not least, Pat G. left a comment about HSUS's broader goals: Animal rights means no animals left, to put it plainly. Pat picked Operation Mississippi Horses to share our money with.
And that's a wrap! Our comment contest is still going on, so be sure to share your thoughts on this blog. And of course, help out your local shelter however you can.
Got a comment? Be sure to leave your thoughts below. From August 23 to October 29, 2010 we will be choosing the two best comments each week of 25 words or more, and awarding $100 (each) to the local pet shelters of the commenters' choice. Click here for more information and the official rules.