New Development in Fraud Scandal Around HSUS Money Man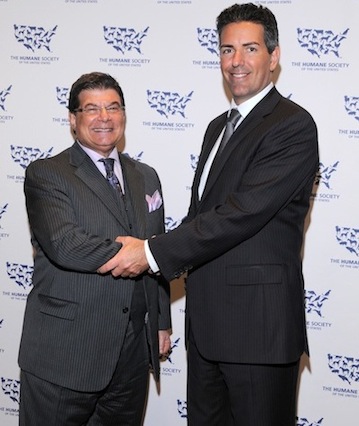 We wrote a few months ago about Arthur Benjamin, a man who has helped raise millions of dollars for the Humane Society of the United States and who sits on HSUS's National Council. ATI, a for-profit training center that Benjamin founded and ran for a number of years, was sued by the U.S. Justice Department for violating the federal False Claims Act, a law concerning fraud in federal government contracts.
ATI is now a former business after agreeing to a settlement with the government to close its doors and pay $3.7 million. ATI doesn't admit any wrongdoing, but let's skip the legalese—the allegations leveled against ATI in the lawsuit seem pretty damning to us.
The scheme is complicated, but here's how we understand the nuts and bolts: ATI allegedly recruited students from homeless shelters and strip clubs, doctored transcripts, and fudged grades, all with the goal of being able to apply for federal grants—receiving a whopping $236 million. The more students, the more grant money. But since the idea was simply to maximize federal aid money, the students themselves were allegedly left to the wayside.
David Halperin reports at The Huffington Post (emphasis added):
According to the [federal] complaint, top ATI officials "were aware of and / or encouraged the fraud."

ATI's current interim CEO, Michael Gries, told a reporter that all of the alleged misconduct at ATI happened under the leadership of Arthur Benjamin.
Benjamin was CEO from 2005 to 2011 and also was chairman of ATI's board. And remember, $3.7 million is a settlement. Had ATI gone to court and lost, the sanctions likely would have been considerably higher.
Benjamin describes himself as a "philanthropist" with "a heart bigger than his body," yet it appears that Benjamin has made a pretty penny over the years from a business that (allegedly) ripped off students and taxpayers. Benjamin the Braggart even says in his bio that his "educational activities impact career education nationwide." No kidding.
Is it fair to say that Benjamin's money is dirty, and if so, how much dirty money has HSUS taken from him over the years? At two lavish NYC galas, Benjamin reported helping raise more than $2,500,000 for HSUS. HSUS has received $235,000 in contributions from Benjamin's foundation and a separate nonprofit group.
That certainly has meant HSUS CEO Wayne Pacelle has had reason to lavish praise on Benjamin. "Arthur Benjamin is the sort of person who emerges on the scene, and has an electric effect on an organization and its donors," says Pacelle. (That's Pacelle at right, pictured with Benjamin.)
Maybe it's no surprise that Pacelle likes Benjamin's mojo. Benjamin's organization was sued by the feds for allegedly ripping off taxpayers. Pacelle's organization is being sued in federal court for allegedly engaging in a witness-payment and racketeering scheme. Pacelle himself personally signed at least one check implicated in this system. (The ASPCA settled this lawsuit in December for nearly $10 million but admitted no wrongdoing.)
And it appears Benjamin hung in plenty of elite circles, not only running the ritzy charity event circuit with HSUS and other organizations, but also getting his picture taken with former Presidents. Wayne Pacelle, meanwhile, seems to enjoy hobnobbing with the Hamptons and Hollywood crowds.
All things considered, Pacelle and Benjamin are kind of a fitting duo, aren't they?
Benjamin reportedly contributed to a number of political campaigns; really, we'd be surprised if this scandal doesn't grow bigger. Stay tuned.