Quotes from HSUS's CEO about Banning Hunting
It seems HSUS isn't having much luck with its ballot initiatives this year. It withdrew its initiative in Colorado, lost an initiative fight in Missouri, and then was outmaneuvered in Michigan. That leaves an initiative in Maine to restrict bear hunting—and HSUS is already showing its desperation, with its CEO Wayne Pacelle implying that he didn't say about hunting what he…did say about hunting.
Recently, Pacelle while visiting Maine tried to deflect criticism by saying quotes attributed to him are Internet rumors:
Pacelle, however, is often described by the media as "anti-hunting" and was quoted by the Associated Press in 1991 as saying, "If we could shut down all sport hunting in a moment, we would." He said this portrayal is an exaggeration.

"I think what we've seen is fabrication of quotes from me that someone puts on the Internet, and then somebody else sees and considers it gospel," Pacelle said in response to the notion he is against all hunting. "Or they take comments completely out of context — and we're talking about comments that are 25 to 30 years old to begin with."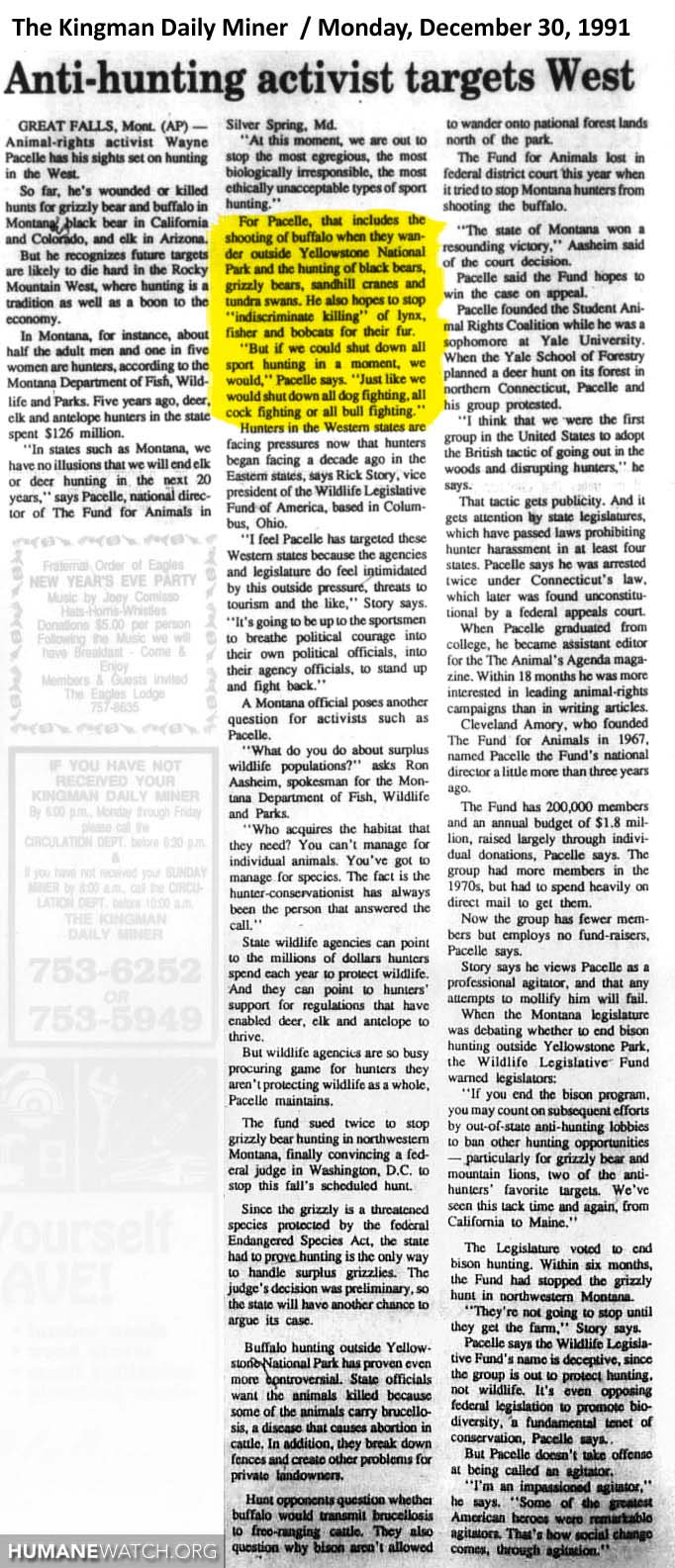 Who's right? Well, we happen to have a scan of the article. See for yourself.
If Pacelle was misquoted, he should have called the AP and asked for a correction. But this isn't the only quote from Pacelle on hunting. Pacelle has said he's against hunting for food.
— "[W]ould you let people hunt for food if they did it respectfully?"

—"Well, it's a good question," he [Pacelle] says, pondering what he's about to say. "I think that I would campaign against it. Yes, I think that I would."
Those aren't the only quotes from Bloodties from Pacelle:
"The definition of obscenity on the newsstands should be extended to many hunting magazines."

"The direct assault made on … wildlife by hunters and trappers has always infuriated me."

"If society says that it doesn't want the recreational killing of wildlife then we should do away with it, just the way we've done away with cockfighting and dogfighting."
And Pacelle has also ranted against hunters personally. In a 1988 essay titled "Animal Retribution?" Pacelle stated that hunters getting hurt by animals is a "rare instance of justice":
As reported recently in The Washington Times, a hunter shot and wounded a passing Canada goose, but unexpectedly the plummeting bird turned kamikaze and slammed into the head of the hunter, knocking him out. Despite these rare instances of justice…
And then there is Pacelle's statement in an essay, "Animals are no one's property, and they have the right not be 'taken,' 'harvested,' or 'culled' or any other euphemism for murder that wildlife managers use." Pacelle stated in the same essay, "I don't love animals or think they are cute."
And then back in 1991, Field & Stream reported that Pacelle said, "We want to stigmatize hunting, we see it as the next logical target and we believe it is vulnerable," continuing, "Having hunters oversee wildlife is like having Dracula guard the blood bank."
It's hard to take these quotes "out of context"—they are all quite clear.
In short, Wayne Pacelle has not just advocated against all hunting—including hunting for food—but he has said harvesting wild animals is "murder" and has also said that hunters being physically harmed is a form of "justice." So when Pacelle tells the press that "I really want to assure hunters in Maine that we are not going to be seeking additional restrictions on hunting"—they need look no further than his résumé to judge his honesty.