Spreading the Word in Cornhusker Country
Humane Society of the United States propagandist-in-chief Wayne Pacelle will make a public appearance in Lincoln, Nebraska on Sunday, and HumaneWatch will be there. In fact, we're already there.
Yesterday at the corner of 10th and "L" Streets in downtown Lincoln, this billboard went up to a chorus of wild cheers. (Okay, okay … we know you were cheering on the inside.)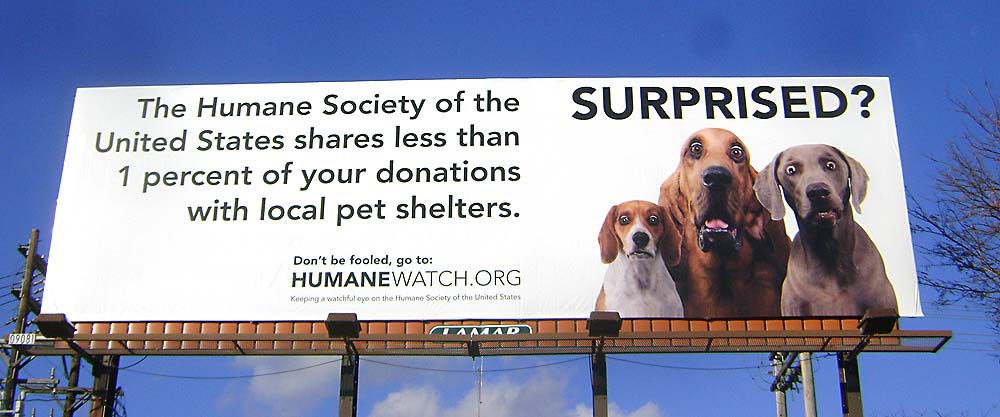 Pacelle will stage his Town Hall show at the downtown Lincoln Holiday Inn on Sunday at 5pm, in what will likely be a bid to "soft launch" a ballot initiative campaign in 2012. (Our money is on an initiative that mirrors the one HSUS has been threatening to ride to victory in Ohio.)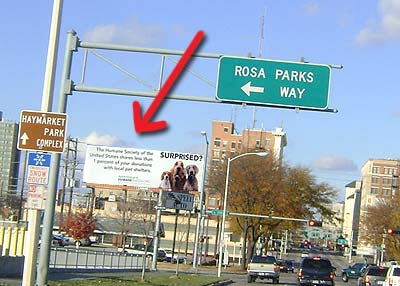 It will be interesting to learn how Pacelle responds to—or if he even acknowledges—the growing awareness of his organization's hollowness on matters related to animal agriculture. Perhaps our billboard will give Nebraska's farmers and ranchers, and all the Ag students at the University of Nebraska, the impetus to ask some tough questions.
Of note, a local cattle rancher will appear in Lincoln to introduce Pacelle. Why, you ask? Good question. The rancher in question is a small all-organic, grass-fed beef producer who apparently believes Pacelle's HSUS will leave him alone (and give him a competitive edge) while it pursues a veganized America.
He's wrong, of course.
Winston Churchill once famously said that "an appeaser is one who feeds a crocodile, hoping it will eat him last." Sound familiar?
Let's be very clear about something: Pacelle is a vegan who will never actually endorse (much less eat) a steak, even if the animal it came from was produced and finished on a prairie with daily pedicures, and a staff of servants feeding it organic hay in between belly-rubs.
So why is Pacelle a credible guy? What gives him a position of authority from which to lecture Nebraskans about how to produce the food that most of us eat? Another good question.
Mostly, it's HSUS's money. With over $100 million coming in the doors every year, just about anyone—no matter how unqualified—could position himself or herself as an "expert." In today's slapdash media culture, that's really all it takes.
Which is why our billboard, in the shadow of the downtown Holiday Inn, is educating Nebraskans about what HSUS is, and what it isn't. The majority of HSUS's donors give money because they want to see dogs and cats cared for in pet shelters. As we've documented, that's not happening at HSUS.
We'll have more to say later about this weekend's Cornhusker shin-dig. But for now, our billboard will do the talking for us.