The Gift That Will Keep on Giving?
UPDATE: The HSUS 2010 Annual General Meeting will be held on Friday, October 22 at the JW Marriott hotel (1331 Pennsylvania Avenue NW, Washington, DC). The meeting will begin at 8:30 am.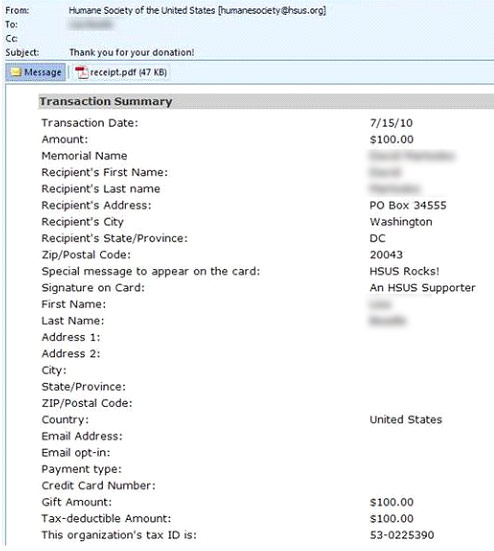 We're not recommending that anyone else do this, but today someone who doesn't appreciate HumaneWatch very much made a $100 contribution to the Humane Society of the United States, and did so in our Editor's name. This means a few things.
First, HSUS's foremost public critic is now apparently (and involuntarily) one of its "11 million supporters and constituents"—which goes to show you how meaningless that statistic is.
But more importantly, as a paid-in-full "member," our Editor will be eligible to attend HSUS's Annual General Meeting in the fall. And he didn't have to compromise his principles by actually spending money for the privilege.
This ought to be interesting, at least if last year's meeting is any indication. We weren't there, but we heard from someone who was present for all 14 minutes of it.
At the October 23, 2009 HSUS annual meeting in Washington, DC, a grand total of 18 (yes, eighteen) people out of those famous "11 millilon" showed up. (And at least half of them were HSUS Board Members and staffers.) The hotel conference room where the meeting was held is advertised as having a maximum capacity of 60.
HSUS members turn out to be an apathetic bunch overall, too. Less than 13,000 of them cast ballots to elect (or re-elect) members of HSUS's Board.
If any other accidental (or remorseful) HSUS "members" want to join our Editor this year, perhaps HSUS will have to move the event to a room bigger than Wayne Pacelle's office. Time will tell.