$500 Million ASPCA Criticized for Shady Insurance
Does the ASPCA put money ahead of animals? The evidence is piling up.
The ASPCA raised $351 million in contributions in 2021 and has $500 million in assets. It paid CEO Matt Bershadker $990,000 in salary and compensation. Over 250 employees made compensation exceeding $100,000.
Meanwhile, the ASPCA only runs one pet adoption center. All of those local SPCAs and pet shelters are unaffiliated with the ASPCA and generally don't see a dime. The ASPCA spends more money on employee benefits than it does on grants to pet shelters, according to its latest tax filing.
The ASPCA also markets an ASPCA-branded pet insurance that has been accused of being a rip-off.
The ASPCA licenses its name to a pet insurance company. ASPCA's 2020 tax return reveals that the nonprofit made over $9 million in royalties from companies in exchange for using its name on products (though we can't say how much from insurance, specifically).
And many customers aren't happy.
The Yelp page for ASPCA Pet Health Insurance shows 23 pages of one-star reviews. Out of 280 reviews, ASPCA Pet Health Insurance has garnered a rating of 1.5/5 stars with 222 one-star reviews. Several wrote they wished zero stars was an option.
Customers complain that they pay hundreds of dollars a month just to have claims denied, with denials for "pre-existing condition(s)" allegedly being common.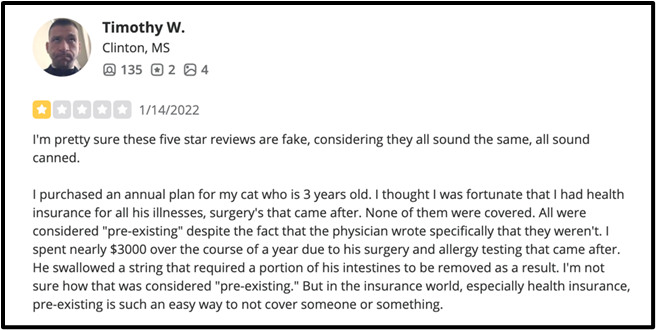 One pet owner had a puppy with a fever and diarrhea that was labeled "pre-existing."
One pet owner couldn't even reach the company to cancel his policy after his dog died.
Here are a few more dissatisfied customers with precautionary tales: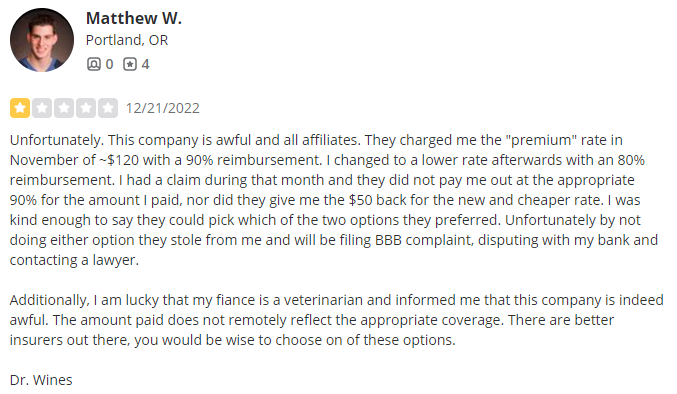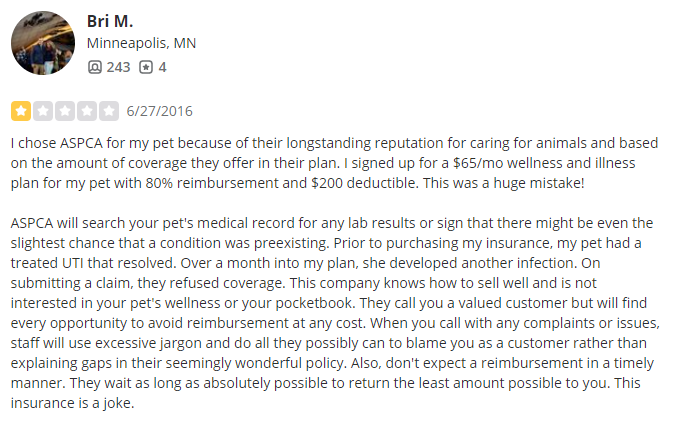 These complaints go on for years. Does the ASPCA care–or is it too busy counting its money?