Fraud Scandal Around HSUS Money Man Goes Federal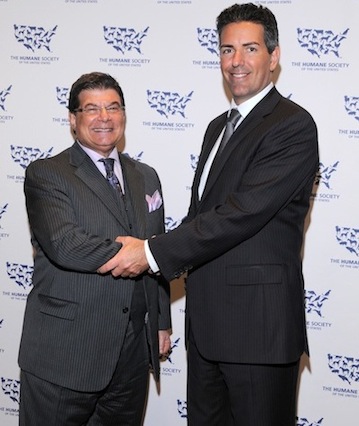 We wrote a few years back about the curious case of Arthur E. Benjamin, who at that point had helped raise money for the Humane Society of the United States. At the time, Benjamin's company, ATI Enterprises, which operates technical and career training centers, faced media scrutiny for engaging in potentially fraudulent conduct.
These days, Benjamin has apparently moved up the food chain at HSUS. He is a National Committee member of HSUS, a position he attained in 2011. Benjamin's nonprofit dog group sent $131,819 in 2010 and $58,797 in 2011 to HSUS, and his foundation contributed another $45,000. Benjamin was a Silver Sponsor of HSUS's 2012 Genesis Awards (the cost of which this year was $15,000), and Benjamin fundraised for HSUS at a New York gala last year, apparently helping pull in $1.5 million on top of a $25,000 donation he made to HSUS earlier in the year. (That's Benjamin at right with HSUS CEO Wayne Pacelle.)
But the allegations against his company haven't gone away, and the U.S. Attorney in North Texas has taken notice. The company Benjamin founded is facing federal civil action for violating the False Claims Act, a law governing fraud in government contracts.
The alleged scheme is fairly complicated, but here's how we understand it. In order to be eligible to receive federal funds under Title IV of the Higher Education Act, ATI needed state licensure. State licensure, in turn, required that ATI have a 60% job placement rate. So ATI allegedly fabricated its placement statistics; when Texas performed an audit in 2011, it found that 60 ATI programs over-reported placement rates by 5% or more. Ultimately 40 programs did not meet state requirements.
The laundry list of alleged bad conduct gets worse: As David Halperin reports at The Huffington Post, ATI allegedly falsified high school diplomas, misled students about their job prospects, and misrepresented ATI's willingness to help repay previous student loans. In short, the federal complaint paints the picture of an organization whose goal was to fraudulently reap in as much federal financial aid as possible, and where helping students was an afterthought.
And if a revenue-first mentality reminds you of HSUS, it should. It's not the only similarity between the two groups: ATI faces treble damages in this action, just like HSUS does in a separate federal case under the Racketeer Influenced and Corrupt Organizations (RICO) Act.
Did Benjamin know about all this? It's hard to say. His LinkedIn profile notes that he was Chairman of the ATI Board from Oct. 2010 to May 2011, and that "From 2005, Arthur has provided leadership for the growth and development of" ATI. His involvement in leading the group spans the time period that this alleged fraudulent scheme was operating. And according to the complaint, Program Participation Agreements — the allegedly false contracts — were signed by either ATI CEO Benjamin or by ATI's president.
But since leadership starts at the top, we think it's fair to conclude one of two things: Benjamin had a pulse about what was going on, or he's an utterly incompetent leader.
Either way, Benjamin keeps sending money to HSUS and reportedly attended HSUS's big Hollywood glitz party a few weeks ago. With the company he ran and founded in boiling-hot water, it's fair to ask if some of Benjamin's money is dirty—after all, ATI is a for-profit company.
But since bringing in the "Benjamins" seems to be priority numero uno at HSUS, it's also worth asking if the animal liberation organization would even care.