Meet Mark Glover, the Brit Behind Humane Society International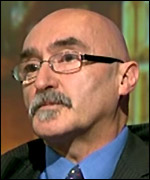 London's Independent newspaper has described him as a man "with nothing to lose," whose goal "is nothing less than an end to all meat-eating." He also says that it's "fundamentally wrong and immoral to abuse and eat animals."
Who is he? Some PETA activist with a grudge against cheeseburgers?
No. He's Mark Glover, the director of Humane Society International in the United Kingdom. And with that vision for the future, it's no surprise that he's a respected leader in the HSUS world.
But outside of Great Britain, nobody seems to know who Glover is. Considering that he's spending about 640,000 Euros every year out of the money HSUS collects from the public (that's about $886,000), we should know more. Much more.
Before he was put in charge of the HSI London office, Glover worked for Greenpeace in the UK as its Wildlife Campaigner. (He also sat on its Board of Directors.) Glover left Greenpeace in 1985, according to University of Leicester Professor Robert Garner, because it wasn't radical enough. Garner writes in the 1999 book Thinking Through the Environment: A Reader:
Greenpeace decided in the 1980s to drop their campaign against the fur trade when it came to their attention that fur provided a crucial source of income for some Canadian and American peoples. This decision so annoyed some Greenpeace activists that, under the leadership of Mark Glover, they split away in 1985 to form the anti-fur group Lynx, which holds an uncompromising anti-fur position.
The issue of whether the global fur trade should exist has consumed Glover for three decades. He ran Lynx for seven years, eventually writing the Lynx Animal Rights Handbook. In October 1986 the group led an anti-fur demonstration in London's Trafalgar Square just hours after a bomb was discovered at a fur store in Leeds. Glover denied having anything to do with the bombing attempt, but The Toronto Star wrote that "Many of the protesters cheered the news of the bomb."
Over the years, Glover's positions on fur have become more and more uncompromising. He's broken with the rest of the animal rights movement by even condemning faux (fake) fur made from plastic. In 1987 he told England's Guardian newspaper: "We definitely disapprove. If something is disgusting and immoral, why try to imitate it?"
And he has opposed subsistence hunters from Canada's First Nations who make fur garments. "[O]ne-tenth of one per cent of fur coming onto the international market comes from these northern communities," Glover told Canada's Globe and Mail newspaper in 1990. "For me that's not a good enough reason for us to stop the campaign."
In the 1990s a fur farmer sued Lynx for libel after Glover and an associate secretly visited a mink farm under false pretenses and wrote that it was a "hell-hole" in a 1989 report. (A local inspector with the RSPCA disagreed, giving the farm a clean bill of health.) After Lynx lost the libel case in 1992, the group was ordered to liquidate its assets. Glover himself and a colleague declared bankruptcy. Lynx was ultimately saddled with debts that some observers put as high as £400,000, and a judge froze its bank account. (The late Linda McCartney, herself an animal rights activist of note, tried to raise £500,000 to rescue Lynx, but she was only able to collect £10,000.)
By the very next month, however, Glover had co-founded a new group called Respect for Animals (RFA) to take Lynx's place.
HSUS's official bio of Glover claims that Lynx simply "changed its name." If that's true, it's worth asking whether RFA has ever made good on Lynx's debts.
At RFA, Glover first served as a consultant before becoming director in 2002, a position he still held in 2008 (long after HSI had hired him). During his early years with RFA, Glover brought a "private prosecution" lawsuit against a fur farmer. In 2000 a British judge threw the case out, ruling that Glover's video was selectively edited and questioning the credibility of those who produced it.
While HSUS writes that his main job is to focus on fur issues (Glover also runs the "Fur Free Alliance"), he appears to have a much broader animal rights game plan. In January 2010 Glover penned an essay calling on future UK Labour governments to "bring in a strategy to reduce meat consumption" and "bring in a ban on wild animals in circuses."
And so it appears Glover—and his backers at HSUS and HSI—are preparing for a much wider assault in the UK (and in Brussels, where the EU is headquartered). "If one is serious about saving animals, then the meat industry is the one to go for," Glover foreshadowed in 1995. "Quite simply, the most basic animal right of all is not to end up on the end of someone's fork."
It's hard to read and digest all of this without asking a few questions.
Did Wayne Pacelle know Mark Glover was a zealous anti-meat fanatic when he hired him in 2006? Was HSUS's Board consulted about the legal liability of giving serious authority to someone who had been convicted of libel once already? Have HSUS and HSI paid part of Glover's salary to satisfy his debts from the libel judgment? (Or is Glover continuing to hide behind bankruptcy proceedings?)
But perhaps most interesting: As HSUS continues to try to paint itself as a middle-of-the-road animal welfare group, how will its donors (Americans in particular) react to the news that its top British employee wants every circus, every fashion show, and every dinner plate to be animal-free?