Unpacking the HSUS Gravy Train (2017 Edition)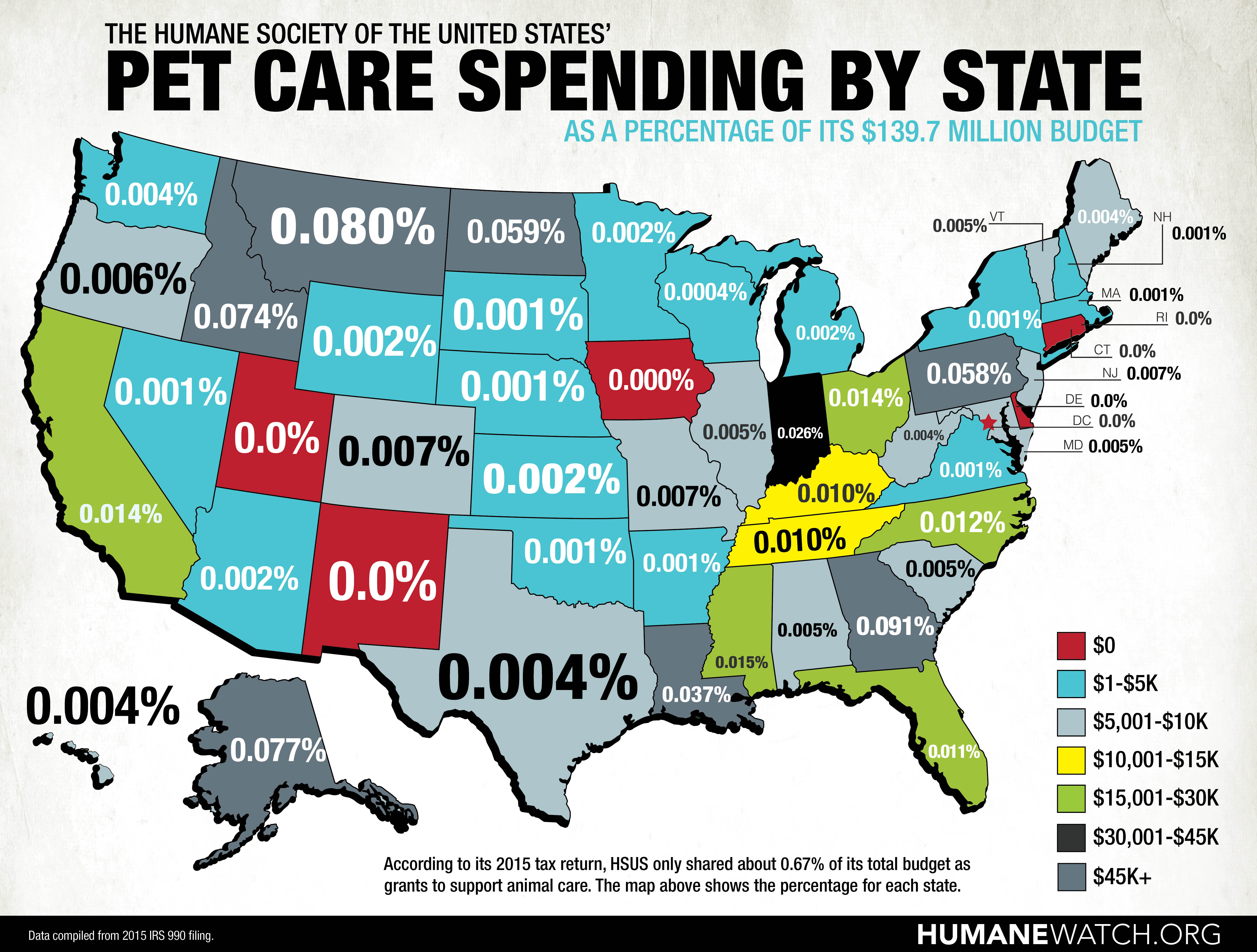 When it comes to the Humane Society of the United States (HSUS), we have never had high hopes that it would live up to its heart-wrenching advertisements and actually help shelter animals. Historically, HSUS would rather spend money on lawyers and lobbyists. But after analyzing its financials from the most recent IRS Form 990 tax return, even we were stunned at the paltry 0.68% of the total budget that was spent on grants for pet care in 2015.
More takeaways include:
HSUS has stashed away over $58 million in Caribbean hedge funds, showing how it prioritizes Caribbean tax shelters over American animal shelters.
Wayne Pacelle, CEO of HSUS, received a nearly $24,000 raise, increasing his compensation to $448,980, or about half of what HSUS spent on pet-care grants. No wonder he could buy a $1.1 million house in cash.
HSUS spent $5.8 million of donor money on hiring Quadriga Art—a fundraising group that was exposed in national media and paid over $20 million to the New York Attorney General to settle a deceptive-fundraising investigation the previous year.
HSUS spent over $40 million on fundraising costs, or over 29% of its total expenses. Including management and general expenses that total increases to 31%. That's not an overhead percentage to write home about.
HSUS spent $4.1 million on lobbying, with $1.1 million going to Massachusetts Question 3, a referendum that dramatically increases the cost of pork and eggs by banning the sale of commonly produced eggs and pork products. This will ultimately hit the poorest residents of Massachusetts the hardest.
HSUS spent over $3 million on its pension plan—more than three times its grants for pet care.
As "charities" go, HSUS is a bad investment. With so much money spent on superfluous legal and lobbying staff and fees, it's no wonder that the organization's impact on helping shelter pets is so limited. If you want to help pets, then please donate to a local shelter where your dollars will go the furthest, and spread the word about the deceitful advertising by HSUS.