2011 "HSUS State Directors" Map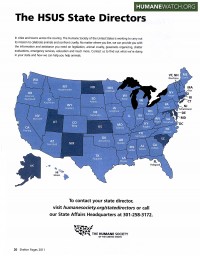 This map, from page 20 of the HSUS-published 2011 Shelter Pages, shows the names of all of the Humane Society of the United States "State Directors" as of press time.
State Directors are generally HSUS's chief lobbying coordinators and press spokespersons for state-level issues.
The map shows that HSUS has Directors in 40 of the 50 states. At the time of this writing, the organization was also actively seeking to hire directors for three more (Nevada, Kansas, and Alaska). HSUS has also had a Rhode Island State Director in the past.
The states that appear to be of less concern to HSUS include Utah, New Mexico, North Dakota, South Carolina, Maryland, and Connecticut.
We believe reproducing this material constitutes a "fair use" as provided for in section 107 of the U.S. Copyright Law. If you wish to use this material for purposes of your own that go beyond "fair use," you must obtain permission from the copyright owner.