"I'm a Tibetan monk, not a vegetarian"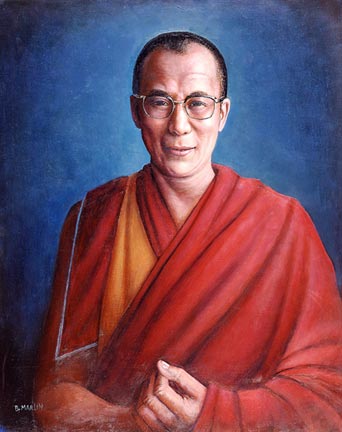 It's hard to keep up with all the self-promotional press releases from the Humane Society of the United States, but one caught our eye this week. It appears that Humane Society International has convinced the 14th Dalai Lama to sign a letter condemning the consumption of eggs from chickens kept in cages.
An emotional appeal to a spiritual leader is, we suppose, all that's left when science isn't on your side.The boilerplate language suggests that HSUS's P.R. department, not the Lama, wrote the text. The letter's release is clearly designed to keep pressure on egg farmers during the Salmonella crisis.
The Dalai Lama is certainly entitled to his opinion, but we disagree.
There are some advantages to cage-free eggs over conventional housing, but there are also plenty of disadvantages. One egg farmer told The San Francisco Chronicle recently:
In a caged environment you are separating the birds from their feces. In a cage-free environment you do not do that….Would you allow a small child to play in his excrement or eat his excrement?
Whatever the Dalai Lama's reasons for signing HSUS's letter, the episode brings up another question: If HSUS is so concerned about promoting the Dalai Lama's views on food, why doesn't it quote him on veal too? It turns out that the one meat animal rights activists love to hate most is on the Dalai Lama's table.
As Chow.com reported in 2007:
[A]t a recent luncheon the Dalai Lama "chowed down" on a locally raised veal roast prepared by Beard Award–winning Wisconsin chef Sandy D'Amato….Turns out the Dalai Lama tried strict vegetarianism for a year and a half in the 1960s and developed hepatitis, at which point his doctors advised him to go back to his omnivorous ways.
You read that right: A religious leader who some believe is the living Buddha thinks that eating veal isn't incongruous with living a life of compassion. (The same is true of Pope Benedict XVI, another veal gourmand.)
Another episode from the Dalai Lama's life that HSUS might want to promote is what happened during his first official banquet at France's Elysee presidential palace, in 1998. Agence France Press reported:
At a meeting with a small group of reporters — during which he partook only of a glass of warm water served up with ceremony in a luxury Paris hotel — the Dalai Lama recounted how his views on vegetarian cooking had somewhat upset protocol the previous day.

"They started serving me vegetarian," he said. "So then I'm compelled to make clear I'm not vegetarian."

"I'm a Tibetan monk, not a vegetarian," he laughed, saying he ate vegetarian food only on alternate days.

As for the meal, he said he preferred the cheap fare served up in small restaurants.

He also recalled that when he had tried to be a strict vegetarian he had, on the advice of Indian friends, tried eating only milk and nuts, which gave him jaundice.

"All my body became yellow, then truly I became the living Buddha."
Image: Portait in oil and egg tempera by Brigid Marlin, 1980
Got a comment? Be sure to leave your thoughts below. From August 23 to October 29, 2010 we will be choosing the two best comments each week of 25 words or more, and awarding $100 (each) to the local pet shelters of the commenters' choice. Click here for more information and the official rules.