HSUS Director Warned by Feds Over Sore Horse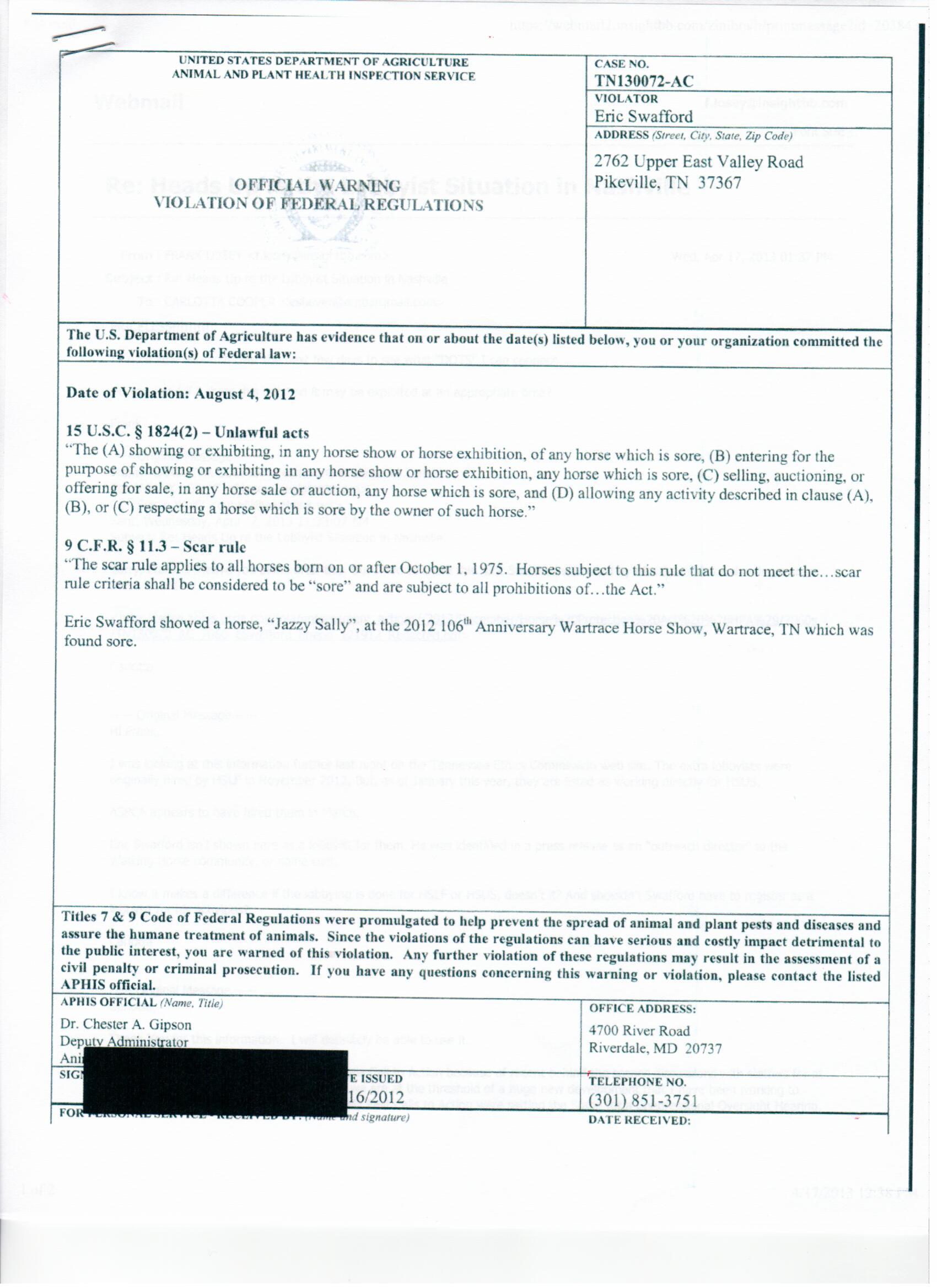 The Humane Society of the U.S. has hired former Tennessee state rep. Eric H. Swafford (R-Pikeville), to do rural outreach and present lobbying tips to activists. The move comes as HSUS is fighting against a bill in the state legislature that would require documentation of animal abuse to be reported to authorities within 48 hours. HSUS has droned on about how this type of bill might impede its ability to do undercover investigations, citing its work to expose horse soring in the Tennessee Walking Horse industry, and Swafford is supposed to give the group some extra firepower.
But it turns out that Swafford was himself warned by the USDA just last year along with one other person for showing a sored horse in violation of federal regulations. Now, just 8 months later, he's on the HSUS payroll, and there's nary a peep from HSUS about this USDA warning.
Talk about unbridled arrogance.
This shows us a lot about the low character of the leadership at HSUS. Recall how HSUS worked to rehabilitate convicted dogfighting kingpin Michael Vick's public image, outraging animal protection advocates. HSUS CEO Wayne Pacelle went so far as to say that Vick "would do a good job as a pet owner" (by the way, Vick's employer had given HSUS $50,000—draw your own conclusions).
HSUS in 2011 appointed money-man Arthur E. Benjamin to its National Council. The previous year, it had emerged in the media that the company Benjamin founded and ran was potentially using fraudulent means to get federal education funding, and the U.S. Justice Department filed a civil complaint against the company in 2012. But hey, Benjamin was (and is) bringing in the Benjamins to HSUS.
The Tennessee bill that HSUS so desperately opposes passed the House and now goes to the governor. HSUS may lose this one. But we expect its trend of questionable associations and hypocrisy to continue in full.