RICO Update: HSUS Affiliate May Be Financially Devastated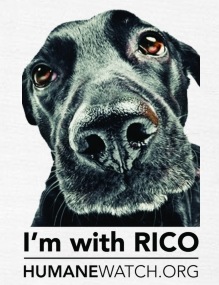 The Humane Society of the United States and two of its in-house lawyers are being sued under federal anti-racketeering (RICO) laws. The lawsuit, brought by Ringling Bros. owner Feld Entertainment, alleges that a suit brought by animal rights groups over 10 years ago regarding the treatment of circus elephants was malicious and involved illegal witness payments and bribery. Heavy charges.
This first lawsuit—not the RICO one—was dismissed in 2009. The animal-rights plaintiffs lost in a devastating way when the judge threw out the case and found that the plaintiffs' key witness had lied to the court and been paid quietly by the plaintiffs. Now the animal-rights plaintiffs are fighting over how much they have to pay in attorney fees, with bankruptcy potentially on the line.
The National Law Journal reports that the Fund, along with the Animal Welfare Institute and Born Free USA, filed a whiny response this week to Feld's request for $25 million in attorney fees, calling it "ridiculous" and claiming that such a penalty could financially ruin them. They propose to pay about $2 million instead.
Should we shed a tear for their plight? No.
Here are the facts: These groups pursued a lawsuit against Feld for years. Not only did they lose the suit, but the key witness lied to the court. Not only did he lie, but he was paid by the animal rights activists—making him a "paid plaintiff" who was "not credible," according to the court. Not only that, but the conduct in this lawsuit was so egregious that the court sanctioned a lawyer for the animal rights groups and her law firm.
The Fund for Animals claims that its ability to pay, even if it dips into reserves, isn't more than $1.2 million. This is a joke. The Fund merged with HSUS in 2005. HSUS, with $200 million in assets, could easily cover the Fund's legal obligations if it wanted to.
Whether HSUS is legally liable for the legal fees is still up for debate before the court. Feld is pushing for this, HSUS is opposing this, and the court has yet to rule—though we must say Feld's assertions as to why HSUS should be a party make for good reading. (Feld calls HSUS's attempts to distance itself from its affiliate "the ventriloquist blaming the dummy.")
Amusingly, HSUS is suggesting that it may have been defrauded by the Fund for Animals. But if that was true, consider this: Mike Markarian was president of the Fund for Animals when it merged with HSUS. He's now the Chief Program and Policy Officer at HSUS, a position right below CEO Wayne Pacelle. Would HSUS keep Markarian on staff if it thought that his group defrauded HSUS? Please.
This lawsuit has gone on for years. It was filed in 2003, and it wasn't decided until the end of 2009. There are still motions being filed in 2014, as evidenced by this latest one. That all adds up to beaucoup legal bills.  To let the Fund for Animals and other plaintiffs off the hook with a $2 million judgment would gloss over the real expenses incurred by the circus.
The ASPCA settled both suits—including any liability for attorney fees—for $9.3 million in 2012. That may be a steal in hindsight. The HSUS affiliate Fund for Animals should have to pay its full responsibility for its role in this bogus lawsuit. If it and other animal rights groups go bankrupt, then tough luck. You reap what you sue.