"Tiger King" Activist Suspected of Murder is Big HSUS Donor
Last Friday, the series "Tiger King" premiered on Netflix. The seven-episode season follows the drama surrounding a small facility in Oklahoma that houses tigers and lions as the owner, who goes by Joe Exotic, deals with colorful and questionable characters–both allies and opponents–and his own serious legal troubles.
One such character is Carole Baskin, the head of Tampa-based Big Cat Rescue and longtime opponent of the Oklahoma facility. Baskin has a sketchy past. While she now denounces breeding big cats, she herself was involved in a similar operation in the 90's after she married her wealthy second husband. (The operation was cited for 26 Animal Welfare Act violations.)
One episode is devoted to Baskin's past and the investigation into the disappearance of this husband in 1997. Interviews with her husband's other family members reveal that they are suspicious of her. He sought a restraining order against Baskin just a short while before his disappearance, claiming she had threatened to kill him. His secretary alleges that Baskin took documents showing that the secretary had power of attorney for him, and then produced a new power of attorney that gave authority to Baskin–and Baskin largely cut out her husband's other family members from his first marriage.
The case is still open. Baskin denies any wrongdoing, and was never charged. (That's her new husband in the tigerprint.)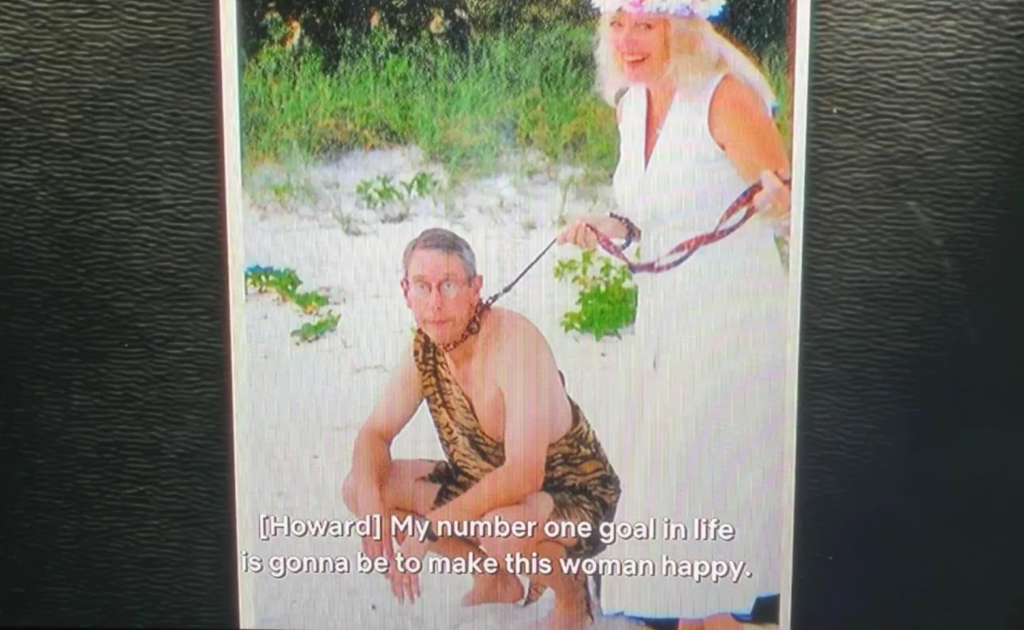 After the show aired, it's not just the deceased's family that is suspicious of Baskin. Adding to the circus, Kim Kardashian tweeted out to her millions of followers that many people are saying they believe Baskin killed her husband.
Wow the amount of texts I've gotten about Tiger King since I tweeted about it all have mentioned their belief that Carol killed her husband! What are your thoughts? Do you think Carol killed him?

— Kim Kardashian West (@KimKardashian) March 23, 2020
Baskin's creepy demeanor on camera is something to see. One of the show's producers wasn't impressed by her, either, telling Entertainment Weekly, "I think there's a lot of hypocrisy when it comes to Carol, and a lot of greenwashing." After all, Baskin is in essentially the same business as Joe Exotic. Both make money off of exhibiting tigers; Baskin is organized as a nonprofit–one that employs plenty of family members, according to her tax return–that obtains big cats from means other than breeding.

The controversy apparently hasn't turned off the Humane Society of the United States.
Baskin's Big Cat Rescue has been a longtime diamond sponsor of HSUS's "Taking Action for Animals" conference, which isn't cheap. BCR is currently one of two listed sponsors for this year's event. And HSUS and BCR work together on legislation such as the federal Big Cat Public Safety Act.
Why would HSUS be in cahoots with someone who comes across as the proverbial crazy cat lady, with a past of Animal Welfare Act violations and controversy? For HSUS, perhaps it's a matter of anyone's money being green. After all, this was an organization that took money from Arthur E. Benjamin, whose company was accused of ripping off the government and who had a history of sexual assault complaints. HSUS is also a group whose board of directors voted to close an investigation into its CEO, Wayne Pacelle, after he was credibly accused of sexual harassment by a number of women employed at HSUS. (He later resigned.)
But that's HSUS. We have to wonder what the lawmakers who are sponsoring the Baskin-backed legislation think about these allegations. Perhaps someone will ask them.