California SPCAs Snarl at Name Confusion
Countless Americans confuse the Humane Society of the United States with their local humane societies, sending donations to HSUS with the belief that their money will trickle down to the pet shelters in their own communities.
Unfortunately, it likely won't. Polling we commissioned shows that 71 percent of Americans mistakenly believe HSUS is a pet-shelter umbrella group, and 59 percent wrongly believe HSUS gives most of its money to groups that care for dogs and cats. HSUS doesn't run a single pet shelter, but aggressively pursues an animal rights agenda. Most of the public confusion, as you might guess, is driven by its name.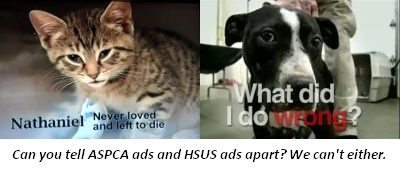 Yesterday, California news outlets reported that the State Humane Association of California, which represents more than 100 animal welfare organizations statewide, filed a formal complaint with the state Attorney General against the American Society for the Prevention of Cruelty to Animals (ASPCA) over the same sort of "humane confusion." Here's how the executive director of the State Humane Association of California laid out the issue:
Ever since the ASPCA began to aggressively fundraise several years ago, humane societies and SPCAs throughout the country have suffered. Our member humane societies and SPCAs frequently report hearing from people who gave to the ASPCA believing they were giving to their local shelter. These shelters believe they are missing out on funds that were intended for them.
The parallels to HSUS in this complaint are striking. And in some respects, HSUS's aggressive fundraising tactics provide an even more egregious example.
Just as the ASPCA is not affiliated with individual SPCAs, HSUS shares no affiliation with community-based humane societies in California—or anywhere else, for that matter.
The complaint alleges that ASPCA's tear-jerking ads suck money away from struggling pet shelters. The same criticism can be leveled against HSUS: Ninety-five percent of the animals depicted in a recent HSUS television ad (the one featuring Jenna Elfman) are cats and dogs. Neither the ASPCA nor HSUS make it clear that donations won't directly benefit hands-on pet shelter organizations.
What's at stake, financially speaking? In the case of the ASPCA, the New York-based group hauled in loads of cash but shared very little of it with California humane organizations. The State Humane Association of California alleges that the ASPCA raised $116.5 million in 2009, but only one-third of one percent ($352,100) reached California last year.
This is also true for HSUS. We've catalogued, state by state, how little of HSUS's budget (four-fifths of one percent in 2009) consists of money sent to pet shelters. In 2008, for example, HSUS gave grants to pet shelters in only 15 states. It spent far more money on political initiatives in states like Arizona, Michigan, Colorado—and, yes, California—than it did on pet shelters in those states.
One important distinction: Unlike HSUS, ASPCA does operate a pet shelter (in New York City). So it can legitimately claim that it spends money on the hands-on sheltering of cats and dogs. Not in California, of course, but somewhere. HSUS can't say the same thing.
A representative of the Pasadena Humane Society told CBS Los Angeles that "all animal shelters have compelling stories. We all have abandoned, lost, stray, homeless animals." That's absolutely true, but pet shelters don't have mega-marketing budgets that can compete with the ASPCA and HSUS.
In this David versus Goliath battle, hands-on pet shelters are the ones carrying the pebbles.
The State Humane Association of California apparently expects to see similar deceptive-fundraising complaints in other states. We think future grievances should also target the much bigger problem: HSUS's ads.